Giana Sisters is a beautiful, addictive game that offers up an interesting game play and several fun features. For fans of platform and adventure games, especially ones that require some thinking along the way, this is a great way to have fun. You are going to be exploring, fighting, dodging, escaping, collecting, and moving your way through each level until you find success.
There are a lot of hidden treasures and plenty of joys to be found, so you have to keep your eyes out while moving at fast speeds. With the two versions of Giana and several levels to success, there is going to be a lot for you to do and even more to experience.
While this is a new version of Giana Sisters, the series itself is not new. Back in the 80's, the original version was introduced, and it looked incredibly similar to Super Mario Bros. So similar, in fact, that you may actually confuse the two if you were to see a screenshot of the game. Over twenty years later, we have this version of Giana Sisters. With an updated appearance, story, and everything else, you have one game that is sure to stay in your mind as a unique experience.
You start out this Giana Sisters as a teenage Giana, sitting with your younger sister Maria. All is well until Maria is sucked into another world, forcing you to go after her! While this may seem like a small and not-too-interesting story, it is only the set up for something greater. You are going to be chasing after Maria, facing the dangers that come along. You are going to be doing more than jumping on heads and throwing objects, too.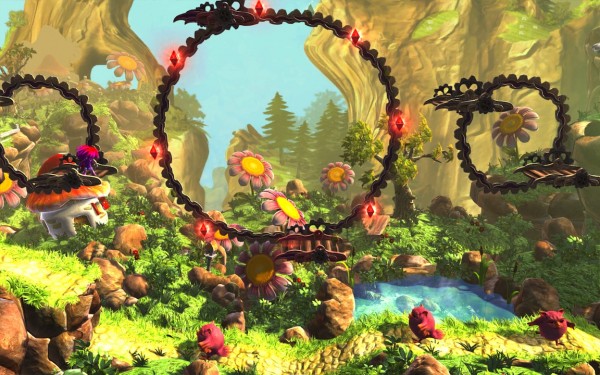 In Giana Sisters, you do not have your basic fighting moves and weapons. Giana is the fighter and her moves are the weapons. There are actually two versions of herself, Cute Giana and Punk Giana. For twirling and the ability to stay in the air for longer, you are going to want Cute Giana.
For dashing and the ability to destroy some of the bad guys, Punk Giana is your choice. Of course, you are not going to stick with one through the game and that is it. You are switching between either of them whenever necessary so that you can do and collect everything. You have no choice, either, since certain parts can only be completed by using one version of Giana or the other.
For more screenshots, click here.
Now, while the game play is superb and addictive, the art is going to really drag you in on its own. It is cute and what you would expect from this type of game for the PC, of course, but it offers something different.
It is not the same throughout the game, as you would find with many other games. You have two different worlds, the nightmare and the dream. Cute Giana is in the nightmare, while Punk Giana the dream. As you switch between them, the layout, enemies, and even minor details change with them.
Watch more videos on their YouTube channel: Giana Sisters on YouTube.
Sooo, did you think this game looks cool? If yes, Like!