Socialize, customize, and connect in Galaxy. It is the perfect social app, with creativity and socialization tied deep into it. Games, contests, and more help to build this little world into something grand. Whether you want to play with others or you want to make friends, or even start dating someone through this app, you have every opportunity available to you. Find friendship and love, and find the perfect place to retreat for entertainment. There are people ready to chat with you from all over the world, people who are all different and unique and looking for people who share their values.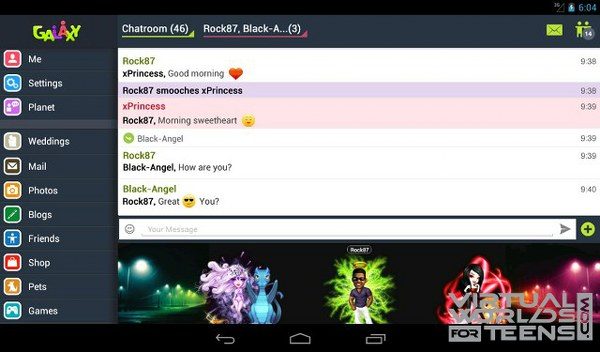 The main purpose of Galaxy is to socialize. Its goal is to bring you a simple socialization app where you can chat with people in an intuitive, user-friendly environment. It succeeds in doing so, creating the perfect place to meet others and hang with friends. The chat room is clean and simple, and meeting people is a breeze. You can chat in the public chat rooms or start connecting with others personally. Whatever you want to do when you socialize, you have that option here.
The chat rooms really do work well. You can find a chat room and start talking to people right away. Meet others, learn about them, and make friends. You can also host your own room if you would like to have the topic you want and would like to bring people to you. There is no clutter or mess making socialization difficult here. Chat as much as you would like.
It is so easy because there are so many people online. Wherever you are, you can find people online who are ready to chat with you. This app has users from across the globe, from your corner of the Earth to miles and miles away. Having so many active members ensures that you will meet someone. Whether you want to date or want to make a friend, or just want someone to chat with, you can find someone here.
Those games are exciting. Galaxy has games, contests, and prizes. See how good you are and earn something for your work and talent. You can show off how talented you are to others or you can use this as a way to make friends. There are numerous options here, as well as other features available. While the focus of the app is on socialization, it goes far beyond that.
For more screenshots, click here.
You also have customization with avatars. Avatars are a major part of the experience here, becoming an extension of you. Choose the look and outfit that you prefer, and add whatever you want. The amount of items available is unreal, making your options nearly limitless. With the exceptional art, you will love every moment with your avatar, too.
Galaxy is one of the top social apps. Chat, customize, play games, and more with this feature full and entertaining app. It has everything you want in a social app, making it easier to relax and enjoy yourself.
Watch more videos on their YouTube channel: Galaxy on YouTube.
Galaxy is free to play.
Sooo, did you think this game looks cool? If yes, Like!