NOTE: this game has been discontinued. Find similar games here: Simulations.
This social strategy game is one you will not want to pass up. Do not let this game go by without giving it at least a second of your game time. You will love Galaxy Life and all it has to offer to your gaming experience.
Filled with action, adventure, and a great story line this game takes place in a time where you will need to build a space colony for survival. You not only will be building and designing a space colony but you will need to defend it as well. There are dangers lurking all over the galaxy so it is up to you to protect it.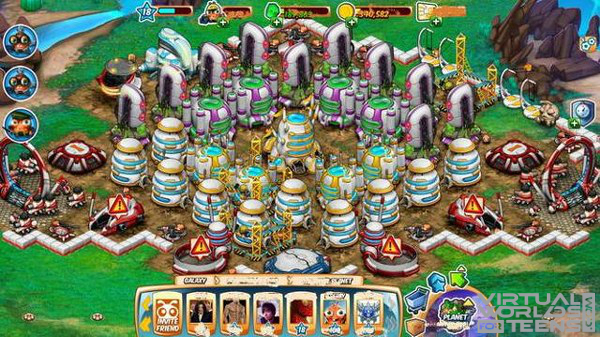 As you build structures for your little alien friends called the Starlings, you will want to make sure you keep them happy. Take some time to create the Starlings homes, buildings, along with different structures and areas to produce resources. You can even decorate the homes and other places to create a unique atmosphere for the Starlings.
As you participate in Galaxy Life you will want to create the perfect strategy to handle all the work you will have before you. As you try to help the little alien nation stay happy and design the best space colony you can, you will want to make sure to use strategy to make the best of your efforts. For instance, you may need to clear off some of the alien land of either rocks or plant life to make room for some of your structures.
Make sure you are always ready in case you are under attack. This brings much more excitement to your galaxy game play. You can be attacked by both other players as well as in game characters. So you might want to make sure you design some areas in your space colony to help you when you are under attack.
For example you might want to build some trap doors, make sure you have a strategic layout when it comes to your structures and walls, as well as towers. Do not worry if your buildings do get damaged in the process of a battle.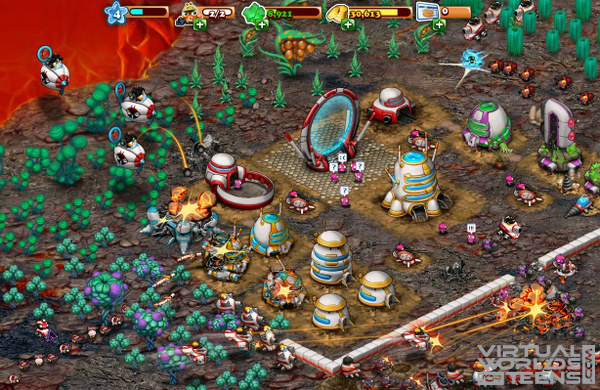 For more screenshots, click here.
It will not take long to rebuild them once the war zone has commenced. You will also want to be prepared to take the offense on occasion instead of just being on the defensive side of things. You can train up some soldiers to create your very own army so that you can attack other planets if you so choose.
Your Starlings can be very helpful to you. They may complete useful tasks for you such as hammering a building or some other helpful task. Sometimes they just like to have fun and will maybe jump rope or swing for a little while. These little guys are full of life. Just remember you can make their world a better place. It is all up to you and your planning skills. You will really enjoy Galaxy Life, so do not miss out on this fun opportunity!
Watch more videos on their YouTube channel: Galaxy Life on YouTube.
Galaxy Life is free to play.
NOTE: this game has been discontinued. Find similar games here: Simulations.
Sooo, did you think this game looks cool? If yes, Like!