If you like creating your own fashions and have an eye for what's trendy, then GalaStories may be the right free social media game for you. You will be able to take your model through various worlds, or game themes, in order to take on the over 2500 quests that are in this fashion game.
The reaction of others in the areas through which you guide your model, will help direct your fashion instincts. You can buy clothes for your model, or grab game freebies. You even have the ability to create your own fashions, and while this takes some time, it can net you more rewards if you rock them right. There are starter packs available to help you have a stronger foothold in this vivid world of fashion. You have the opportunity to be a trendsetter in this game that has a lot of fashions and themes that border on cosplay.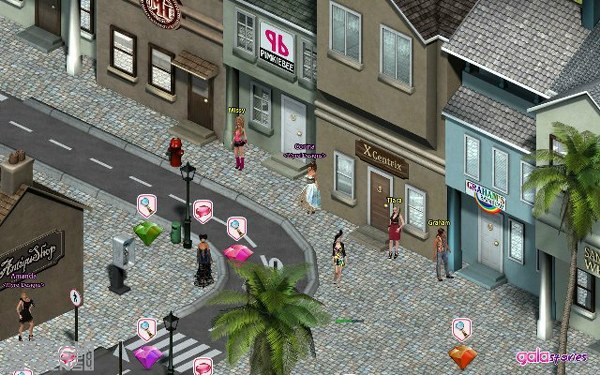 From themes like Oriental Elegance, Alice in Wonderland to Egypt, pinup-inspired fashions and other City Destinations, you can unleash your inner diva and dress to impress. Great shoes, evening gowns, dresses, tops, pants, skirts, jewelry and other accessories are often updated, and every theme has new pieces that will help you set off any outfit.
The 3D graphics of GalaStories are another standout in the social media game world. You will have even more of a sense of being in each area and seeing how your fashion choices look on your model, thanks to this style of game animation.
You will gain more points and earn more in game money for fashions when those around your model give more positive responses to your chosen looks. If you like, you can trade clothing with in game friends in order to round out a look, or assist them in elevating their looks.
You gain more points when you enter a room with friends, even though you are able to play this game solo. No matter the event, you need to have your model dressed to the nines while being appropriately attired. If you show too much skin or are too out of step, this will result in your model earning less praise for her fashion choices.
For more screenshots, click here.
You will be able to customize your model, in order to have her rounding out your fashions to your taste. As your model becomes more famous in GalaStories, you will be able to engage in showdowns against other models. The more popular that your model is, the more showdowns she will be able to win against other models.
All of this fame fortune leads to more fun and more shopping options. Your model's wardrobe can be filled with your dream fashions when you are well-funded enough to pick up new clothes. You can now go ahead and feed you need to strut your stuff and look fabulous around the clock, when you get involved in GalaStories. Take control of your virtual closet and start visiting lands from out of this world when you choose to play this fashionable fashion game.
Watch more videos on their YouTube channel: GalaStories on YouTube.
GalaStories is free to play.
Sooo, did you think this game looks cool? If yes, Like!