NOTE: this game has been discontinued. Find similar games here: Multiplayer.
What Is FusionFall
FusionFall is an enormous sci-fi browser-based MMORPG that takes place in the Cartoon Network Universe. FusionFall has set new standards in browser-based gaming. There are wonderful 3D environments to explore while experiencing the voices of your favorite cartoon characters.
You will be able to jump, bounce, hop and even leap through a variety of obstacles in all the environments and solve puzzles while completing missions.
The Scenario
For thousands of years, planet Fusion has terrorized space. While absorbing one world after another, planets have fallen to the alien attacks allowing the enemy greater power.
Planet Fusion has sent a fusion of spawns to Cartoon Network Universe to gather information in order to start an assault. The enemies are landing everywhere, breaking down your environment, creating minefields and pitfalls. If something isn't done soon, all will be lost!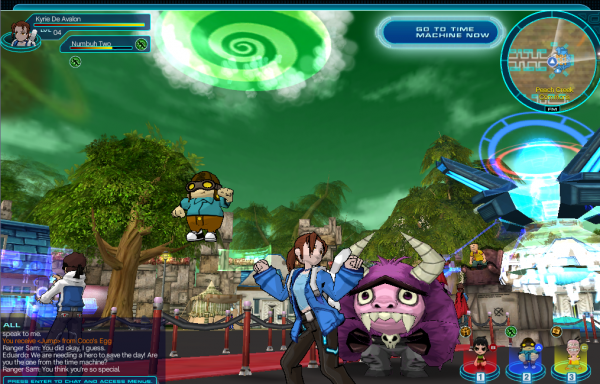 The World You Live In
You will be exploring and gaining important information from all the various environments in your world:
Suburbs:
The suburbs are the primary residential areas and homes for many of your heroes.
Downtown
Is a typical bustling metropolis and is home to the most vital industries of Cartoon Network Universe.
The Wilds
This environment is much larger than the other areas. You will be offered an amazing experience in adventure with many wide open spaces.
The Darklands
This is the most dangerous region to travel in. Planet Fusion's invasion has taken a very deep hold here.
Interplay with an Array of Characters
Cartoon Network Characters are all the characters you know and love from your favorite shows.
Monsters are those you should avoid and be afraid of.
Fusions are also characters you have known, only they are evil.
Nanos are tiny versions of your most love characters, only cuter! With names like Buttercup, Numbah 2, Eddy and Eduardo.
Game Features
Explore wonderful 3D environments, Leap into the worlds of your favorite shows and
Discover and explore new environments.
Engage In Combat
You will choose your weapons, Wear specialized armor, Select your Nanos and Develop your strategies by combining elements from your arsenal.
Accept Missions by performing tasks alone or with your buddies. Earn new items to boost your stats and increase your levels with Nano tasks.
Collect items in order to customize your Avatar
You will gather wearable items during game play, such as armor, allowing you to customize your look and improve your stats.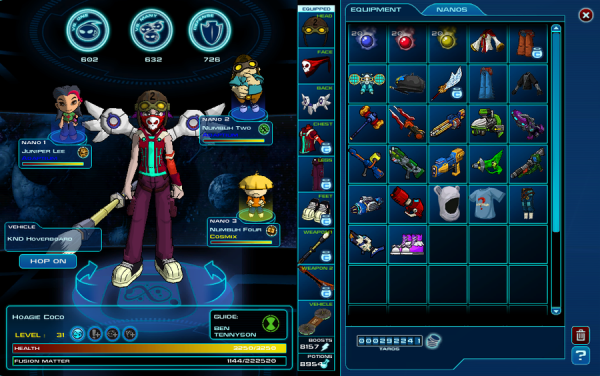 For more screenshots, click here.
Choose from a large variety of weapons to customize for attacking your enemies. Accessories will further improve your avatar, also choose your Nanos in order to improve your skills.
Solve environmental puzzles, improve your skills in order to avoid dangerous situations. You can also socialize with Cartoon Network characters and meet up with your friends online. You can also make new friends by using the in-game chat options. Both with old friends and new friends, you can team up and complete missions together.
Once you get started, you can download your Game Manual, have access to a Training Guide and get going quickly with the Quick Start Guide.
In Summary
FusionFall was created through a partnership with developer Grigon Entertainment. This is an amazing mix of 3D platform game action, customization, character development and is a huge multiplayer online role playing game. Special powers and abilities are collected over more than 600 unique missions.
You will enjoy hours of great fun with family and friends with this exciting 3D game. Gather up your friends and come join in on this exciting role playing game, you will have a ball!
FusionFall is free to play.
NOTE: this game has been discontinued. Find similar games here: Multiplayer.
Sooo, did you think this game looks cool? If yes, Like!