The Frozen Essence is a visual novel created for you to interact with every part of this game. The beginning of the game is with your character protected in your realm by bodyguards. You decide your fate; you find either love or tragedy; or both, it is your choice. You do have four guys that you may obtain as well as a character that is hidden within the novel. These four guys are considered to be Minas love interests (potential boyfriends).
Frozen Essence is a game played much like playing out your very own novel! The story is about a young lady who was locked away for 1000 years and forgotten. You are Mina, (you can also name your own character) and you have been in that locked away place only to forget who you are.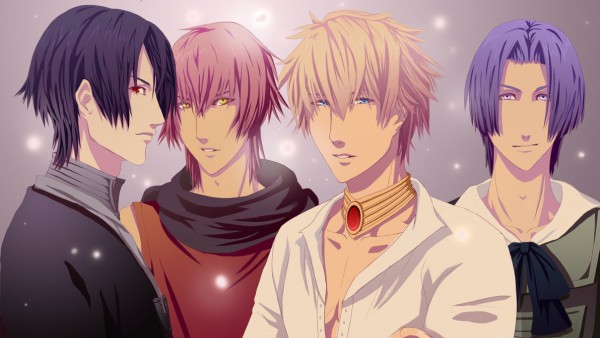 However, someone has discovered you and has broken you out of your crystal prison. This is a miracle to be free again!  Wait, now that you are free many people are chasing you! What is so sad is that you have been locked away for so long you do not remember why anyone would want to harm you.
However, with the help, guidance, and protection from an oracle within your realm you will begin your adventure!
Remember this is a world balanced by its very essence and you have just been released from your crystal prison. Follow the oracle and make sure you stay with your bodyguards because they are your protection.  You have a dark power that many people fear.  Each path's story differs greatly depending on the path you land on.
This game comes in English and you can name your own heroin. This novel can end 12 ways. It is your choice! You are allowed up to 4 guys and 1 hidden character per novel. Don't forget to save your novel as you go along!
Part one of your novel has more interaction than the second. The first part you get to create your name and pick out the suitor you would like to begin the novel with. The second is a bit more reading but fun just the same. Make your choices wisely!
For more screenshots, click here.
Remember this is a novel made from fantasy and enjoy yourself! Create several endings and decide which one you would rather play. You can decide what path Mina should take, should she fall in love and live happily ever after? Alternatively, should Mina meet a dastardly death at the hands of the people chasing her?
Your task is to help Mina through her journey without becoming a victim by the hands of all of the people chasing her because she is slightly different than others. (Ok, maybe more than slightly, but that is still no excuse to hurt someone!) However, this novel gives you a chance to use your imagination and create whatever world or fate you want Mina to meet! Let your imagination run wild! This is a fantasy that you create for your characters!
Frozen Essence is free to play. Did you enjoy this game? Then why not check the other Flirting Games, surely you'll love it.
Sooo, did you think this game looks cool? If yes, Like!