So mom and dad won't let you get a pet, but you're craving a little bit of company after that breakup, fight with a friend, or simply to relieve stress between homework and, well, and the rest of your life? Foopets gives you all of the benefits of having a cat or dog, without talking your parents into actually letting one in the house. And for those who already have pets, Foopets are a bit better behaved (mostly, anyway!).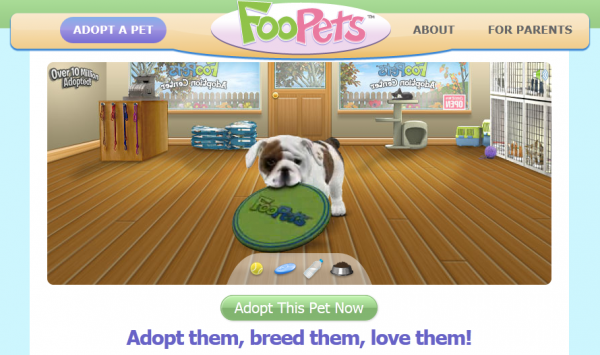 You get to start the game by choosing your pet. There's an option between a dog and a cat, and then the breed of the animal (as well as gender, name, etc.). For dogs, you can choose from a variety of popular breeds, including (but not limited to) Goldens, Rottweilers, Poodles, and Dalmatians.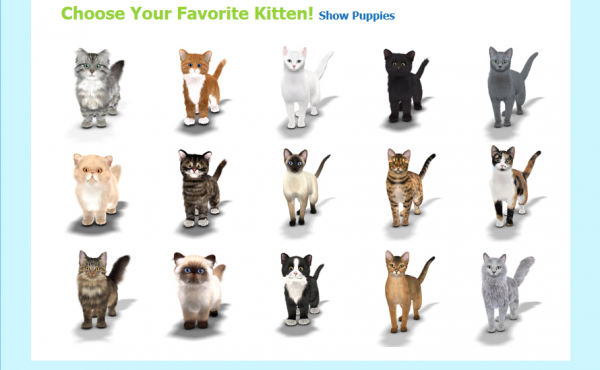 For cat lovers, there are also several options, including Siamese and Persians. Once you have everything set up, you get to take care of your pet, including water, feeding, training, and cuddling. And as the game works in real time, you need to check in on your buddy at least every 24 hours (which is still less care than a real pet requires!). Of course, if you have to be away for a while, you can enlist the help of friends and other Foopets users to pet-sit your buddy to make sure he or she is okay!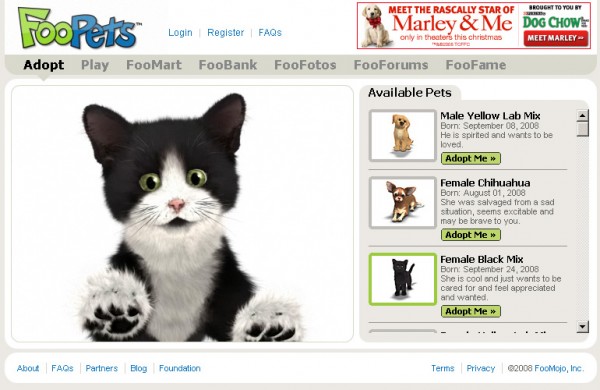 For more screenshots, click here.
Available on Facebook and MySpace, as well as your iPhone and Foopets.com, your pet can live anywhere from 10 to 20 years (yes, real years) depending on how awesome of an owner you are to your cat or dog. And as you play, you earn Foopets currency to pay for food, vet bills, and toys for your buddy. Adorable, fun, and lighthearted, Foopets is the single best pet companionship game out there. Enjoy!
Watch more videos on their YouTube channel: Foopets on YouTube.
Sooo, did you think this game looks cool? If yes, Like!