Welcome to Fluff Friends Rescue! Prepare to enter a world of adorable animals, and take part in the experience of a lifetime! These fluffy friends need your help!
With Fluff Friends Rescue you get to meet cute pets and help these fluffy friends find loving homes of their own! This game is perfect for animal lovers and leaves you with a warm, fuzzy feeling. Get ready to meet adorable animals and nurse them back to health.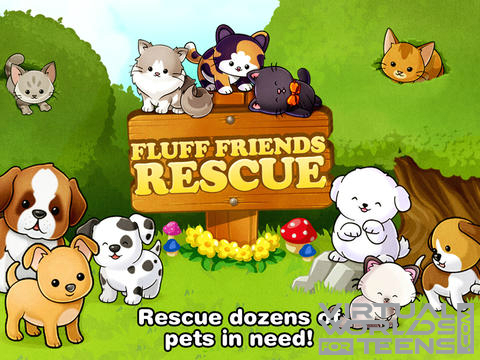 Fluff Friends Rescue lets you feed your pets, heal them, and build unique playpens with a wide range of decorations to give your fluffy friend the perfect home to stay in. You get to make a fuzzy critter's life perfect and give them the warm, loving family they deserve!
Get ready to fall in love with fluffy critters as they run, jump and play with you on your handheld device! Take these fluffy friends anywhere you go, and get ready to fall in love with your new pets. When the right time comes, you get to decide who these critters go to, so rest assured that your fluffy friends will have a good home! If you don't want to let them go, just keep them in your shelter!
Whether you're a dog or cat lover, Fluff Friends has more than enough pets to keep you satisfied all day! This game is perfect to sit back and relax with, and for those of you who need a little downtime, what better way is there to relax than sitting down and playing with some fluffy friends! With Fluff Friends Rescue, you get to choose your pets to take into your shelter, and experience the life of a pet rescue shelter, allowing you to nourish your pets back to health and make sure they leave your shelter well fed, healthy and happy!
This game appealed to those who enjoyed:
Match Fighter – Survival
Pet Fair Friends
Fat Jump
Angry Boo
Bunny Pop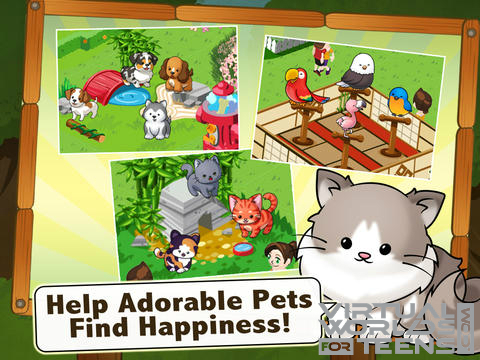 For more screenshots, click here.
This game is free, but allows you the option of in-app purchases. The content can be accessed at no cost to you, but in-app purchases allow you a much more in depth experience with Fluff Friends Rescue. Currently, Top In-App Purchases include:
Throw Me a Bone Bundle
Walk in the Park Bundle
Beagle Bucks
Pocket Pedigree Bundle
Best in Show Coins
Cat Cash Bucks
Watch more videos on their YouTube channel: Fluff Friends on YouTube.
Fluff Friends Rescue is free to play.
Sooo, did you think this game looks cool? If yes, Like!