NOTE: this game has been discontinued. Find similar games here: Simulations.
A garden takes a lot of work, but Floristikus makes it manageable and far more entertaining. You have your own magical garden where beautiful, amazing flowers are going to be growing. You can grow these, care for what you have, and decorate your garden to fit your desires.
This is something that a lot of people will adore, especially those with a green finger. You have gardening that is more than just gardening, which is what makes this such an incredible game. Anyone with the desire to grow and anyone who wants to do more with flowers than just water them should begin playing this game.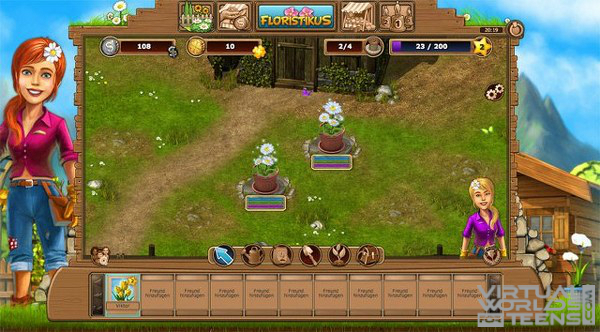 Caring for your flowers is to be expected. When you grow a garden of any kind, you are going to need to give what you grow the proper nurturing and love. Neglecting this will result in the downfall of your garden, something that you are not going to want. To make sure that nothing bad happens to your flowers here, give them whatever they require. It is easy to do and actually rather entertaining. Since it is all a game, everything is simple and doable. You are not going to be going through a lot of stress to do simple tasks here.
This is more than just caring for flowers that you are given. In fact, there is a lot more going on here. One of the major points to the game is growing your garden and creating new flowers. In order to have a massive garden that you would like, you are going to need to combine flowers to create new flowers.
These are going to look different and be beautiful, helping you to have a completely unique and stunning garden for all to admire. You can experiment with the different flowers to find the combination that interests you the most.
A garden is never dull, and that is especially true here. Along with the natural beauty of your flowers, you are going to be able to customize. This is going to give you the chance to add a lot more excitement and wonder, making it special and truly magical.
For more screenshots, click here.
You can make the changes that you like to turn your little garden into something extraordinary. You will be able to create the perfect oasis, where flowers become more than what they appear to be. This is going to become the garden that all other growers admire and want their gardens to be.
Floristikus is addictive. If you like flowers and gardens, this is definitely the game that you should be playing. Even if you do not, you might find yourself sucked into this rather easily. The reason is that there is a lot of excitement and wonder with this game. It is not just a garden, but a magical oasis. It offers several things to see and do that will make you love the game more and more as you continue playing. Make this the most amazing garden that anyone will ever see using your creativity and what is available.
Watch more videos on their YouTube channel: Floristikus on YouTube.
Floristikus is free to play.
NOTE: this game has been discontinued. Find similar games here: Simulations.
Sooo, did you think this game looks cool? If yes, Like!