Fiesta Online is a very popular role-playing game and it has over two million users. It is a multi-player game and can be enjoyed in both English and German languages. Soon, Spanish and French versions will also be available.
The movers, which are devices or animals, will help you explore the game fast. However, if you want to use the movers you will need equipment and riding skills, which you can only acquire from the merchants. If you want to buy and sell goods, you can go ahead with shop trading too!
There are mini-houses in the game where you can rest through your exploration. There are mushrooms that will appear every now and then. These mushrooms will help you with the resting places so that you can recharge your spirit and health points. These points are very important for fighting successfully. Remember, though, that you can even be attacked while resting. You should be careful at all times, thus.
The game allows you to customzie weapons and that is a great feature of this game. Enhance your weapons so that you can defeat different classes of the enemies. You need license to use the weapons and you can get a maximum of three licenses. If you have a license, the damage potential will improve.
Here are the classes of the main character:
Warrior: These are fearless fighters. You will be very powerful and strong if you choose to be a warrior. You will have close combat skills and defeating you can be very difficult.
Cleric: If you choose the cleric, you will be of the supporting class. You will have powers that will help you heal your supporters and hurt your opponents at the same time. You can do so by summoning the Teva Goddess. Since you have combating and healing powers, you are a definite asset to the team!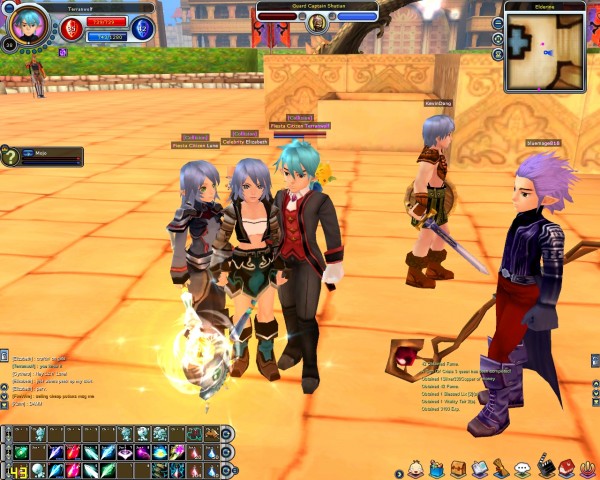 For more screenshots, click here.
Archer: Become an archer if you like range weapons. The game even gives you special skills in order to awaken natural forces to defend yourself.
Mage: Use magic by becoming the Mage. Since you can cast spells, you are an asset.
Trickster: This class of characters is very unique. If you choose to be the trickster, you will have the power to cause a lot of damage very quickly. You will be able to point out the weak points of your opponents and then use it against them. You have a claw or a blade that you can use to slash your enemies off their souls.
All in all, this is an amazing 3D animated game.
Watch more videos on their YouTube channel: Fiesta Online on YouTube.
Fiesta Online is free to play.
Sooo, did you think this game looks cool? If yes, Like!