NOTE: this game has been discontinued. Find similar games here: Dancing Games.
If you like your games with a whole lot of dancing, then there is a MMO that is hoping to take dance games to the next level. Fever Mix uses vibrant 3-D anime graphics to create a world through which you navigate your avatar.
There are floating areas, like the shop, a magic cube system and three gaming arenas through which your avatar may get its groove on. Let the fun begin in this floating world where dance is the language of the day.
First of all, you will be able to customize your anime avatar as you wish. There are any number of accessories and clothing choices from which you may select in order to make your avatar as cute, sassy, or cool as you desire. You will see plenty of references and characters from popular anime and other games, in various areas of this fun-filled fantasy world. This game puts you and your avatar in a beautifully designed game universe that may make you think that you have jacked into the future.
The Fantasy Dong Mode will test your reflexes in this dance fusion section that combines traditional dance and drum. The Anime-inspired Music Mode known as Lovely Journey has you stepping to tunes by following the beat of musical bubbles. The Innovative Dance Mode, known as Take Away the Axe, has you using your rhythm to ward off the weaponry being flung at you by the Rabbit King and his henchbunnies. This single-player mode is the first of its kind in an online dancing game.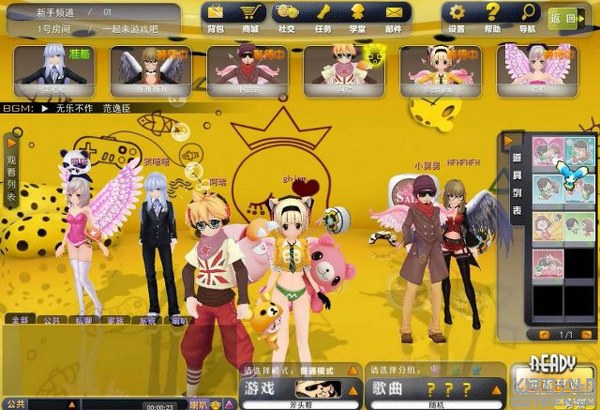 It appears that you will have your choice of music from a broad selection of artists, to which to have your avatar dance in each of these modes. There is a menu of Chinese, Japanese, Korean, English, and other artists from which you make make your choices.
Each level of play from which you may pick, be it easy, normal or hard, has its own available track list. So if a tune by your favorite artist or from a favorite anime is on the menu, you may have to increase your skill level in order to make your avatar dance to its beat.
For more screenshots, click here.
You will find that excitement abounds and the dance world takes over in this brand new game out of Southeast Asia.  Get ready to don your wings or put on your dancing shoes and dress your anime avatar in ways that will inspire you to put its best foot forward. Just going to the official site will have you hearing dance worthy anime J-Pop, and in search of more ways to get in on the fun.
The closed beta version is now available for download in Chinese or English. The site has a trailer and there is a forum up and available in order for you to become a part of the, sure to be explosive, Fever Mix community. You can find out about the latest patches, receive help and game play advice, as well as report any bugs that come to your attention.
Watch more videos on their YouTube channel: Fever Mix on YouTube.
Fever Mix is free to play.
NOTE: this game has been discontinued. Find similar games here: Dancing Games.
Sooo, did you think this game looks cool? If yes, Like!