Have you ever wanted to run your own clothing store? Well, Fashion Story give you the opportunity to do so in a vein that is similar to that of other social business sims. This game will find you ordering the top fashions, waiting for them to arrive and selling them from your storefront. You will also have the joy of decorating your shop and unlocking items as you complete level after level.
Start getting your shop together by decorating it in ways that will appeal to customers. You will have a number of wallpapers and flooring from which to choose. You will even have a wide array of shop furnishings that are all catered to give your clothing store a unique flair. Mirrors, dressing rooms, display tables, and racks are just some of the available items with which you may decorate your shop. You will want to make each area in your shop have its own vibe.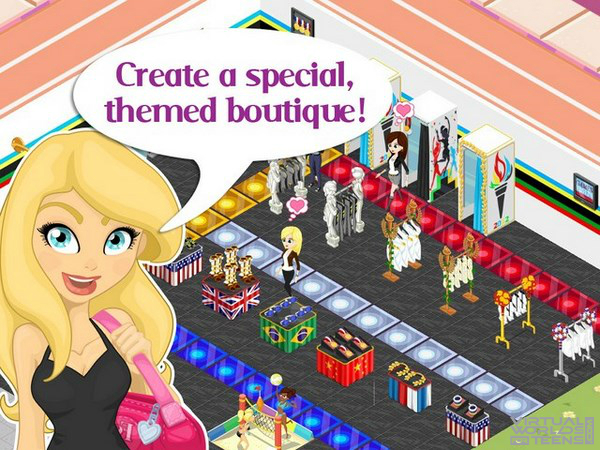 Part of the fun of Fashion Story, is that you are not stuck with any of the shop décor that you select. You may make alterations as long as you have the in game funds to do so. You will also be able to visit with other shop owners, leaving them gifts. You will also want to customize your avatar who you will see taking care of your shop. As with your shop, you have the ability to make as many alterations to your avatar as you wish, as long as you are well funded.
You will have to buy merchandise for your shop and sell it for a profit, which you can use to beautify your shop and your avatar. As you reach higher levels, more expensive and trendy fashions will be available to you. Now when you place and order, you will be informed on its delivery time.
You need to be there to pick up your order or it will be returned to the factory, and you will loose your in game money. This is very similar to gardening in many sims games: if you do not harvest your crops by a certain time, they will wither.
So have a great time as you decorate your shop and sell merchandise in order to fuel your interior décor needs. Even once you reach the top level, you will want to redecorate your shop and carry on visiting other shops on the block. It is easy to grasp the hang of operations, and the graphics will have you admiring your shop and its merchandise. You can pass the time and have your clothing store running like a pro.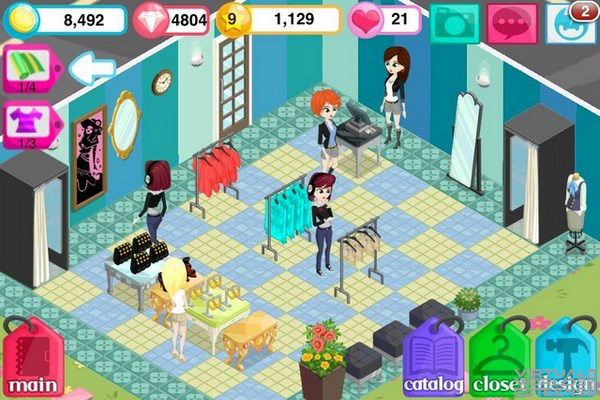 For more screenshots, click here.
With a Fashion Story, you will not have to be concerned about your shop being a clone of another. There are so many options that you are not likely to see identical clothing stores, or avatars. There may not be many quests, but you will have fun with the décor updates and the many ways in which you can alter your shop to suit your mood or the season.
Watch more videos on their YouTube channel: Fashion Story on YouTube.
Fashion Story is free to play.
Sooo, did you think this game looks cool? If yes, Like!