NOTE: this game has been discontinued. Find similar games here: Fashion.
Are you moved by the thought of creating your own fashion designs?  Well, there is a game app that will have you making your own virtual creations in no time. Fashion Star Boutique is a design game that was created by those who love fashion for fashion lovers. You will be able to create textiles and turn them into your own fashions for display in your boutique, on your own compatible device.
Not only will you be able to create your own designs, you will be able to have fun running your own boutique featuring your unique fashions. You will get to work with some of the hottest fashion trends for inspiration and as you reach your in game goals, you will unlock exclusive designs. You will even be able to share your creations on the Fashion Star Boutique social media page, and receive feedback from others.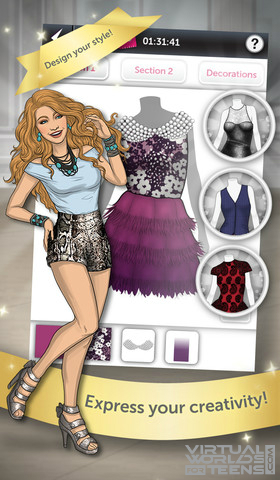 Your journey through the world of fashion design and boutique ownership begins with a client request. What is great about the various clients you will encounter, is that they each have their own tastes and fashion needs. This will enable you to push yourself to work within the parameters placed upon you by others.
Part of being a successful designer is expressing your own point of view while pleasing the client at the same time. Once you agree, you are then able to make your textile choices and create your fashions. Then you are able to display and sell them in your Fashion Star Boutique, all the while gaining coins and experience points. Best of all, you will be able to flex your creative muscle and receive feedback when you share your creations online.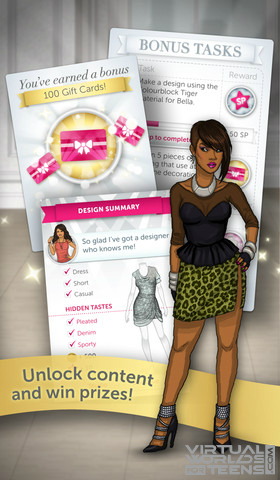 You will be able to use your favorite textiles in various ways. You can use the same blazer to create three different looks. Are you a into the concept of showing different ways in which the shirt you designed can be worn? That is part of the beauty of fashion.
You can create any number of looks with a simple change of bottoms, shoes, shrug, and accessories. Three people can be handed the same top and bottom and come out with three very different looks. Your fashion sense is unique to you, and this game give you the opportunity to hone your design sense.
For more screenshots, click here.
You can gain confidence in your creative instincts simply by seeing your fashions in your Fashion Star Boutique. The option to share your designs only gives you a broader platform to display your talent. Now you have the opportunity to develop your design sense. You can broaden your fashion creativity from the convenience of your device.
You can have fun seeing your creations on display and running your own virtual boutique. Even if you cannot sketch, you can begin to see your fashions come to life when you play Fashion Star Boutique. Bring out your design talent. Stop wishing that you could see what your creations look like, and take a fun step toward bringing them to life.
Watch more videos on their YouTube channel: Fashion Star Boutique on YouTube.
Fashion Star Boutique is free to play.
More Games Like Fashion Star Boutique
NOTE: this game has been discontinued. Find similar games here: Fashion.
Sooo, did you think this game looks cool? If yes, Like!