NOTE: this game has been discontinued. Find similar games here: Fashion.
Do you feel like you have the makings of a stylist? Fashion Sketchbook allows your to try your hand at putting together different looks on a customizable model. This game app is available for your compatible device, and allows you to dress your model from head to toe, complete with accessories.
When you play Fashion Sketchbook, you will be able to arrange your model's hair, choose her skintone, and apply her makeup. There is no need to have a beauty salon in your room, when you can have a virtual one in your hands. You can choose from any number of tops, bottoms, dresses, and shoes.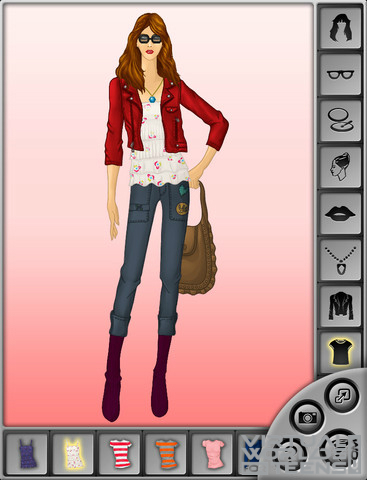 You can give your model a retro vibe or put her at the forefront of fashion. Do you want her to have a more low key feel, for a night in with the girls? What about giving her a romantic look for time with that special someone? No matter the occasion, you will be able to come up with a look for your model that turns heads.
What if you want to give your model a look for the big dance? How about a night at the movies? Yes, you can use this tool to map out ideas for your own real life looks, or even show friends ideas that you have for them. You can save snapshots of your looks and email them to your friends.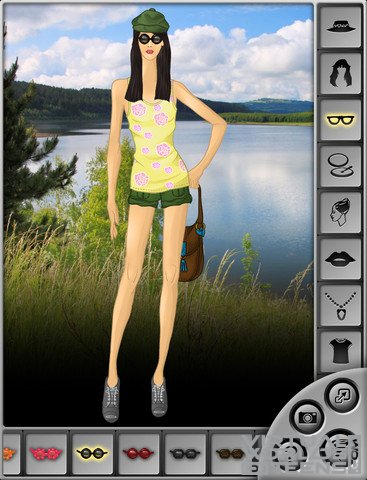 Many times it is easier to show someone what you envision for an outfit, rather than just point out separate items. With Fashion Sketchbook, you will encounter some of the latest styles and trends, which will make it easier to show your friends the look that is in your mind.
Do not think that jewelry, belts, hats, scarves, sunglasses, and bags were left out. There is an array of accessories from which to choose, in order to give your looks the perfect finishing touch for every situation. Sometimes just a change of shoes and jewelry can take an outfit from casual to elegant.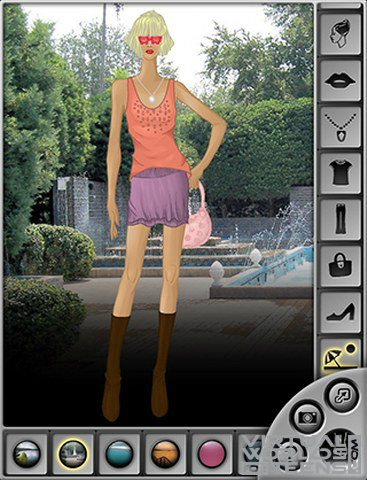 For more screenshots, click here.
You can explore your versatility when it comes to putting together looks. There is even a tornado function which will randomly put together some of your looks. You never know what might end up catching your eye that would not have occurred to you otherwise.
You have your choice of backgrounds to set off your hot looks. With this tool you can gain more of a sense of your how well your looks work in certain settings. So, have fun unleashing your inner stylist and start boldly mixing and matching various pieces in order to create one of a kind looks. Fashion Sketchbook is a delightful way to spend time, without spending money. With updated outfits at your fingertips, you can still put on something new, at least virtually, even if your debit card is a bit exhausted. Get friendly feedback, or keep your ideas to yourself. However you want to dress up your models in your Fashion Sketchbook, is entirely up to you.
NOTE: this game has been discontinued. Find similar games here: Fashion.
Sooo, did you think this game looks cool? If yes, Like!