With so many fashion design games available out there you will not want to pass up on this entertaining game. Fashion Rush offers loads of fun with this edgy and fashionable virtual design game. You will love everything about your game play experience.
There are so many great qualities about this game that may even take your breath away. The brilliant backdrops are beautiful and eye-catching. The animated characters are fun and thrilling to play with and the tail swishing kitty cats are adorable and most fitting for any fashion lover.  You will have lively workers and so much more.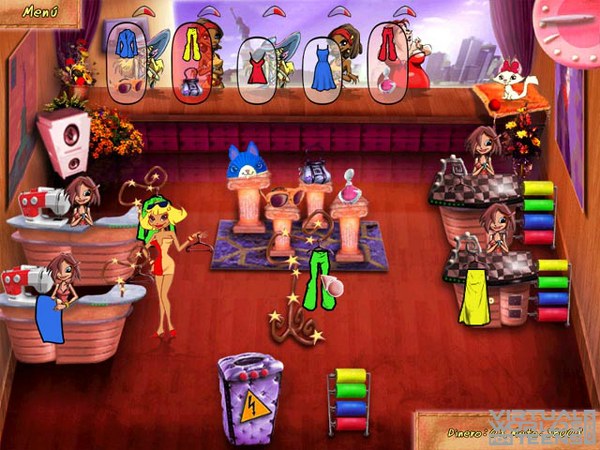 The game revolves around Satine. She had always adored the fashion industry and starts her quest to become a fashion expert herself by designing her very own design collection of clothing as well as opening a booming boutique. Helping Satine do this is your job. You will need to help take orders from clients, make sure the fabric gets cut, restock the material when needed, supervise as well as order the employees to create different types and styles of clothes, and then deliver the finished product to the appropriate clients and customers.
The challenge in this game comes in to play due to the fact that you will be timed. This game is a time management game which will cause you to use your quick thinking skills. This only adds to the fun in the game as you race against the clock to perform successfully.
As the game progresses the more your skills will be needed and used. The better you are the more chances you will get to purchase things such as radios to help sooth your customers, cats to help calm aggravation, or you may even open up a new seamstress making your orders easier to fill with the extra help. Keeping you customers happy is very important so purchasing things that will please them is smart to do.
Since your customers are "people" they will act like people have each have a different level of patience. This is very much like the real world. Keeping them some of them happy may take a little more work than others, but that is all a part of the challenge of the game as well.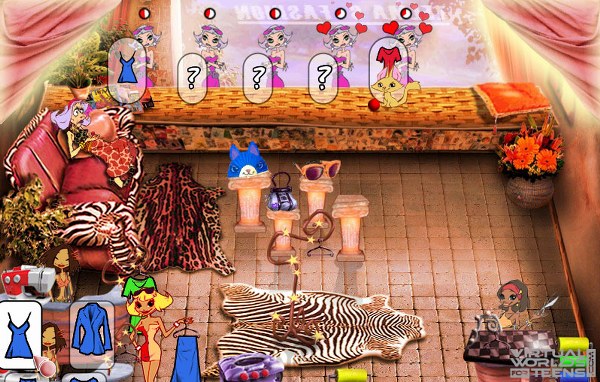 For more screenshots, click here.
There are some extra features that are really cool in Fashion Rush like being able to name your pets, choosing which type of clothing you want to be able to reserve a place in your collection, and more. The music is wonderful and not drab like you might find in other games.
This game is a lot of fun and will be a good experience for someone looking to play a well thought out fashionable designer game. As you help Satine grow in her trendy career you will be amazed at the hard work that goes into the fashion industry. If you love fashion and a good competitive game, then Fashion Rush is definitely for you. Get your stylish juices flowing and your running shoes on!
Watch more videos on their YouTube channel: Fashion Rush on YouTube.
Sooo, did you think this game looks cool? If yes, Like!