NOTE: this game has been discontinued. Find similar games here: Fashion.
Does the thought of joining the world of fashion draw you like a moth to a flame? Then stepping into the Paris fashion scene, courtesy of the game Fashion Icon will either inspire you to toughen your skin and carry on, or change gears. This delightful game takes the RPG format and puts it into the fashion industry and the many ups and downs involved in making a name for yourself as a successful fashion blogger.
You will be able to customize your avatar, and no worries about being stuck with your first selections. There is no way that you could earn your stripes as a fashionista and keep the same hairstyle or makeup from day to night or event to event. You will also be able to earn plenty of in game money that you can use to increase the size of your wardrobe, with top fashion pieces.
This will be about more than just showing off your flair for fashion. In order to enter certain parties, you will have to have outfits that are worth at least a designated amount of points. You will have to make sure to make time for romance, since having the "right" boyfriend will also gain you admittance to various functions in the City of Lights.
This game will have you virtually visiting many of the quarters of Paris, as you gain money that you will use to further your standing in the fashion world. You will be able to make entries in your blog that will let others know of your progress. Shopping will also require that you have enough energy, as will working. Attending parties, flirting and pose-offs against other models will require that your avatar have enough confidence.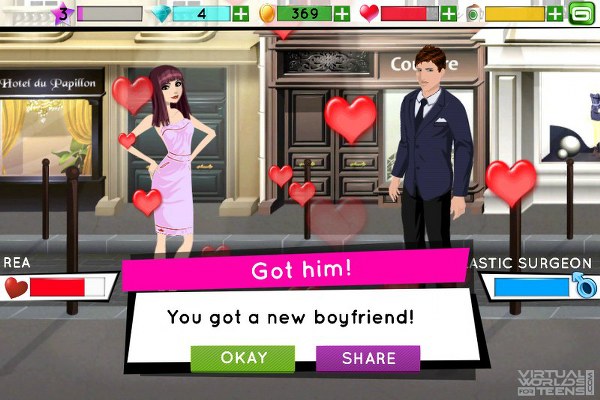 Yes, you cannot make it through this world of fashion without coming up against a rival or two, and fending off some gossip attacks. You also have the ability to take down your rivals with the written word, but how you go about gaining points in this game is up to you.
So, get ready to move up the ladder on your climb to becoming a Fashion Icon. Make friends, best your enemies, find love, and become the top blogger in your field, as you make your way through the streets and salons of Paris. If you can make it in this fashion capital, you can make it anywhere.
For more screenshots, click here.
Instead of being clad in armor like many RPGs, you will don the right frock and high heels. Instead of PVP with sword and magic, you will defeat your rival with better poses and well-timed insults. You will discover that even though the fashions are glorious, what goes on behind the scenes may be better suited for the gladiator's arena.
Have fun learning the fashion ropes and try not to be caught off guard by the need to hone your fashion instincts. At the end of it all, if you do not give up, you can become a Fashion Icon.
Watch more videos on their YouTube channel: Fashion Icon on YouTube.
Fashion Icon is free to play.
NOTE: this game has been discontinued. Find similar games here: Fashion.
Sooo, did you think this game looks cool? If yes, Like!