NOTE: this game has been discontinued. Find similar games here: Fashion.
Are you in the mood for some tilt and swipe leveling up, but in a setting that grabs your attention? Then there may be the perfect game app for your compatible device. You can help your model walk the runway on time and with flair, in order to make her, or him, a star of the runway instead of a trip and slip Fashion Hazard.
You will able to choose your model and assist her, or him, in becoming the number one stunner on the catwalk. Each model has a biography and it would seem due to increasing popularity, more models have been added, including a male model. You can play this game as Gabrielle, the girl from a well-to-do suburb.
Your model can be LeTigress, a reality star turned runway hopeful. You may gel with Ana, the girl from modest beginnings with the dream to become a fashion designer. Maybe you identify with Emma, a fashion maven born from an elite family in the entertainment and fashion industry. You may even want to assist Rob, the former athlete who hopes to net an acting career.
If you acquire the skill, you will be able to conquer each of the high fashion capitals in which your model walks the runway. You will have to pick up bling as you strut your stuff. You will also have to avoid obstacles, such as other models, rude bottle throwing spectators and poisonous vipers, as you model the latest fashions.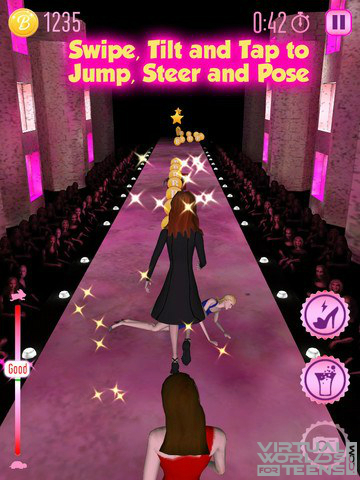 Granted some of these are not the usual runway dangers, but here in this game, just keeping your model upright and on time are not enough. You will also need to compete for photo ops, as the more sought after models are the ones who photographers want in front of their lenses.
Each model has a different set of higher and bundled achievements in each city, but they will all start out in New York, move on to London, then to Paris, and finally, Milan. Not all of these tasks will have you playing nice, but it seems sometimes you may have to be a bit pushy to get what you want.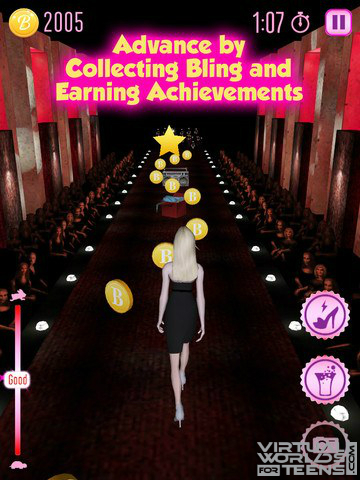 For more screenshots, click here.
There is a model complete award followed by fashion flair achievements to round out each model's journey. This 3D game will have your model struttin' to some pretty hip music, but you do have the option of using music from your compatible list of mp3 tunes. There are also game wallpapers, character packs and ringtones which you may purchase.
Fashion Hazard gives you the thrill of gathering treasure and dodging obstacles, but in a setting that appeals to your fascination with the world of fashion. So get ready to help your model walk her, or his, way to the top of the pack and reach goals. This game may not be as challenging as the real fashion industry, but you may enjoy honing your ability to shift and swipe your model to runway fame. By the way, "you better work!"
Fashion Hazard is free to play.
More Games Like Fashion Hazard
NOTE: this game has been discontinued. Find similar games here: Fashion.
Sooo, did you think this game looks cool? If yes, Like!