NOTE: this game has been discontinued. Find similar games here: Fashion.
A game created with the Mom or daughter stuck in a rut with their wardrobe! This game is great for ladies of all ages.
Are you a woman that has been wearing the same style of clothes and hairdos that you wore as a young lady? Have you ever been told by your daughter, when you are getting dressed, "hey mom it is not the 70's anymore?" I have!
The Roiworld: Fashion Fix game is not only fun to play it is very informational about the latest fashion trends and the dos and don'ts in the fashion world.
Roiworld: Fashion Fix is a great game for girls to play. (Guys can play too but just an FYI this game is very girly)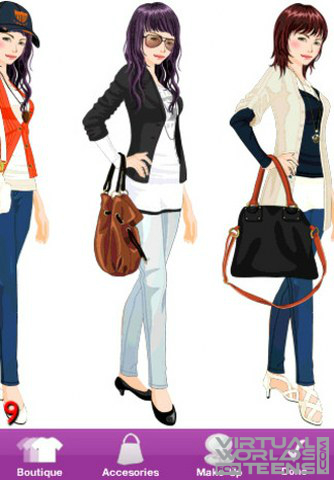 The game is set up like paper dolls but they are digital. This game can be played on an iPhone or online. The iPhone version has limited levels while the version online has many more levels and choices to choose from. If you liked playing with paper dolls or playing dress-up this is the game for you. You can add accessories to your dolls as well as putting make-up on them. What's even better is that you can enjoy the experience of shopping without having to spend real money.
This game is a way to learn what fashions mix and max with other fashions and what does not belong together and what does.
Do you remember when you were a little girl and that most of the time you had to wear a dress? Well, in this game you will have the choice of dresses, pants, pantsuits, shorts, and many more to choose from.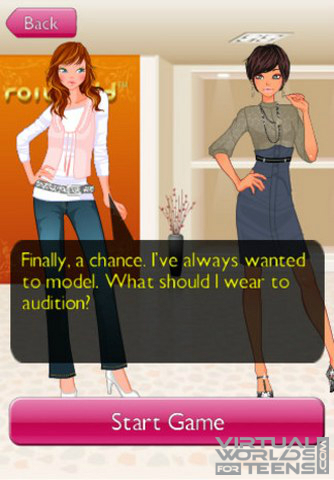 Here is how the game works. You are to help Romi, the main character, to become more hip than she is by helping her with a make-over of her wardrobe. Take her shopping for new fashionable outfits. These outfits will need to be approved outfits for class reunion's, blind dates, shopping trips, and many more.
Remember you will receive low points if Romi is not dressed to impress. For instance you will need to help Romi dress sharp for the blind date that her friends have set her up on because if she looks dreadful the blind date will be a NO-SHOW.. However, if you help Romi dress to-die-for you will have a successful date and you will receive up to 300 (the max score).
For more screenshots, click here.
You are in control of the outcome of all events and their outcomes by dressing and accessorizing Romi for each event. You will be able to fix her hair, change her clothes, and add accessories. If she is dressed shabby (unless the event calls for it) you will receive 100 points or lower you will have to take the challenge again.
This game is fun to play on your iPhone or the computer for girls (women) of all ages. You will have fun shopping and accessorizing while sitting in the comforts of your own home. You will have 50+ levels (depending on what you play the game on) to check out the different fashions and trends.
You will be able to virtually try on the clothes without the worries of if they will fit or not!
Fashion Fix is free to play.
NOTE: this game has been discontinued. Find similar games here: Fashion.
Sooo, did you think this game looks cool? If yes, Like!