If you love fashion, then this Fashion Fantasy Game is a must-have! Forget about those lame paper doll cut-outs! With this fun, interactive game, you'll be designing and selling fashionable clothing like the pros.
The Fashion Fantasy Game gives you get a taste of what it's like to be a real designer and fashion boutique owner. You can play the role of the designer or the boutique owner, so you'll get a taste of both sides of the business!
You'll get the chance to design your very own unique clothing and fashion concepts. And when you're done, you can show off your designs in a virtual online fashion showcase. There's no limit to what you can design with the Fashion Fantasy Game!
After you create your first outfit, you'll be able to present it to virtual retailers. The better your designs, the better your chances of getting your fashion line into the Fashion Fantasy Game stores.
You'll also get to manage your own virtual fashion boutique, where you can sell your haute couture creations and buy fashions designed by other players. And just like in real life, you'll have to remember to pay those boutique expenses, with the Fashion Buckz that you rake in as you sell your fabulous fashions.
The Fashion Fantasy game lets you hone your skills so you'll be ready when you start your real career in the fashion industry.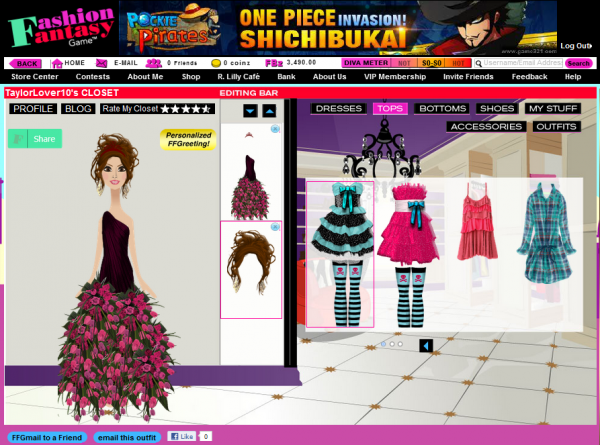 Other fun features of the Fashion Fantasy Game include:
Design one-of-a-kind fashion designs and sell them to virtual shops.
Learn marketing and promotion skills, just like real fashion designers!
Manage and run a fashion boutique in one of four major cities.
Attract customers to increase sales for your virtual shop.
Sell your own designs or buy fashions from other designers and sell them in your boutique.
Learn how to manage expenses and budget wisely in a fun, realistic way.
Aspiring designers like you can even enter contests for the Fashion Fantasy Game's weekly design competitions. And you can win real prizes for your original fashion designs!
You can also interact with other aspiring fashion designers in the Fashion Fantasy Game's online social networking community! You can chat with other players, exchange ideas for new fashion designs, and critique each other's creations.
For more screenshots, click here.
You'll get to have your very own profile page and you can blog about your newest designs and new fashion lines, just like a real-life designer. Plus, you'll get to interact with other teens who have the same interests in fashion.
The Fashion Fantasy Game has more than 2.5 million members who have made more than 4.3 million fashion designs since the game was first developed by fashion industry expert and businesswoman, Nancy Ganz. And it continues to grow in popularity!
So join the fun and start designing fabulous fashions with the Fashion Fantasy Game!
Watch more videos on their YouTube channel: Fashion Fantasy Game on YouTube.
Fashion Fantasy Game is free to play.
Sooo, did you think this game looks cool? If yes, Like!