The name says it all in this fun filled, thrilling, fast paced game. You do not have to be an expert in style to enjoy this game as you will be expected be quick and maybe even a little spastic at times. That is all part of the fun though. You will enjoy this game and the many antics it offers.
As you will find, the story will begin with Maria who is a journalist for different magazines for women. Maria will receive a surprise call from Lynne who happens to be her aunt. Aunt Lynne asks Maria if she would like to take on the role of managing a fashion shop.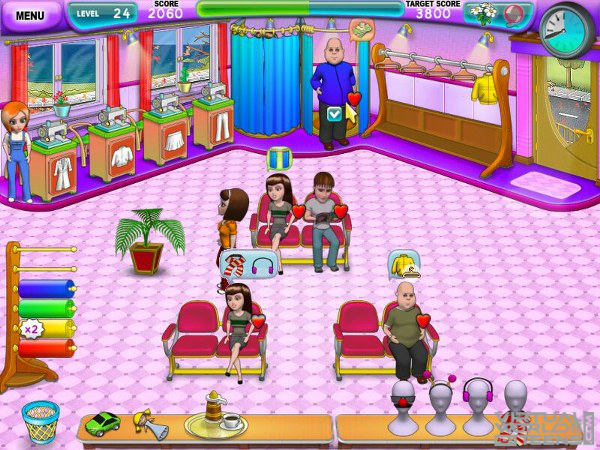 Of course, Maria accepts as this is an opportunity of a lifetime; however, Maria has no experience in retail at all. This is promptly where you will come in to play. Maria will need your help to customers coming in and make sure they stay happy. That is your mission, no matter how hard it gets, or what level of  impatience you will receive.
With each passing day, or stage this game will show a single screen which is occupied by numerous objects. Items such as a trash cans, sewing machines, coffee machines, furniture, and so on will be in these scenes. You will need to serve the customer or customers as they arrive.
You will be taking them for seating on the couch or other places by clicking and dragging them to the appropriate place. Once you have them seated you will be carrying out their orders as promptly as possible. You will see the customer wishes in a though bubble above their character's head.
Some customers will be very demanding, but this makes the game a little more challenging, in turn making the game play even more stimulating. You may have to click on various hot spots in a certain order, which will enable Maria to collect various color fabrics to allow the seamstresses to get started on creating the orders.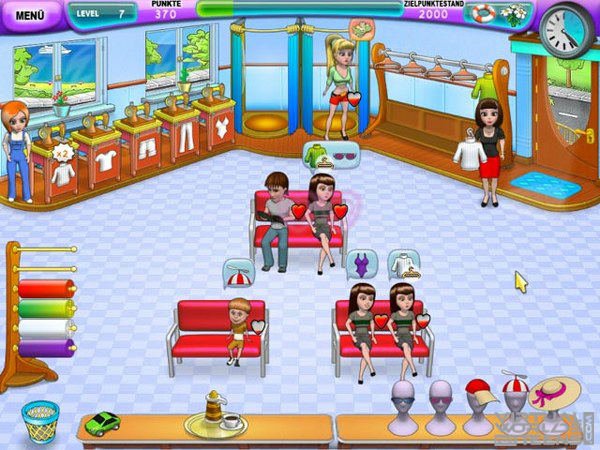 For more screenshots, click here.
Once they are finished with the orders, you will need to deliver the items of clothing to the proper customer along with anything extra that was requested of you. You will allow the customer, once you have delivered their items, to the try on their outfits in the fitting rooms. Once they have changed into their new fashionable outfits you will t hen collect your pay.
As the customers wait, they may become disgruntled or impatient. The longer they wait, the worse it may get and you will need to make sure they keep calm so they will pay you in the end. So make sure to keep your customers as happy as possible to help you beat each stage successfully. Your will be required to make so much money before closing time to beat each stage, which means time management is your key to success in this game. Fashion Craze is a lot of fun and offers hours of exciting game play.
Watch more videos on their YouTube channel: Fashion Craze on YouTube.
Sooo, did you think this game looks cool? If yes, Like!