In this fun filled and exciting game, Anna is your character. Her father desires for her to become a lawyer just like him, but that is not the desire of Anna's heartbeat. She rebels and in a moment, thanks to her aunt, finds herself with a job as a fashion assistant. Along the way, Anna's aunt will give to her hidden object tasks that show her the ropes of the fashion industry. Throughout the game, Anna discovers she has an eye for fashion that is unbelievable!
Through finding hidden objects in different scenes you will find that this game is not like all the other hidden object games. It has more style and flare with the groovy pop art that it reflects. Be careful as this fun style also creates challenges and you will have to have a good eye to find the right objects.
This game definitely hits the nail on the head when it comes to incorporating the hidden object play with the actual game theme and story. Some of the things you will need to look for are food, make up, jewelry, accessories, and other clothing in which all of these items play a large role in the fashion industry- even food! As models tend to stay away from junk food, make sure to choose nutritious food that will help Anna stay healthy not to mention energized to carry out her tasks and perform the proper job along the way.
When looking for hidden objects, make sure to look everywhere. In some scenes you will be able to look in furniture, open shelving doors, and you may even need to watch the television to grab items from the models. Keep in mind that you will earn creative points for interacting with the television.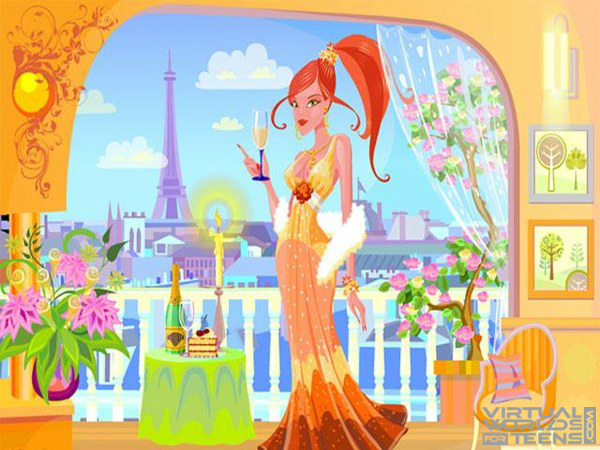 Look for other imaginative ways to earn more creative points throughout your travels and experiences. There will be a scene where you will need your flashlight to find hidden objects in the dark. Another scene will have you putting flowers in vases so make sure you put the right flowers in the right vases for ultimate success.
In your game play you will be earning points. Anna's points are gained from hunting down items so she can then go shopping for things such as clothes, hats, shoes, and other accessories.
For more screenshots, click here.
You will have so much fun when you enter the wardrobe to dress Anna with the things she buys and in this process, you will have fun and earn Glam Points. Be careful what you choose for Anna to wear because you could lose points. This may be challenging, but this adds to the overall experience and offers you even more fun. You can earn up to five stars when playing in the wardrobe.
From Anna's room you will be able to access the map to return to hunting objects, shopping, and her wardrobe. There are pictures of very famous fashion designer's names in Anna's room as well, if you click on a name you will be able to learn more about them. This game is fun and educational all at the same time.
Watch more videos on their YouTube channel: Fashion Apprentice on YouTube.
Play Fashion Apprentice NowMore Games Like Fashion Apprentice
Sooo, did you think this game looks cool? If yes, Like!