Running your own tribe is exciting and wondrous. You have people depending on you for food, shelter, and necessities, allowing them to grow and survive. While there is a very low chance of this happening in real life, there is a definite chance of it happening virtually.
With Farm Tribe, you will be able to run your own tribe and give them everything that they need. Quests, collection, building, and management are all offered in this game, which does help to give you more to do. Evil and issues are not unheard of here, either, because of the dangers posed by pests to your food. During playing, you will be able to collect everything, care for your people, sell, and grow until you are happy with your village.
The entire point of Farm Tribe is to develop your tribe and give the people what they want and need. No, this is not in the political sense, but in the literal and the surviving living as a tribe sense. When you think of what they need, think of what they actually need, as in food and other necessities. You are giving them these things. From what they eat to what they do, they are depending on you for these things.
Sometimes, you have too much in stock. When you do, you can actually sell some of your items. Doing this is something and helps to boost your account, but remember not to do too much. You can make money, great, but your villagers still need these items to survive. By removing all of it, they will not have the basic necessities that they require for life.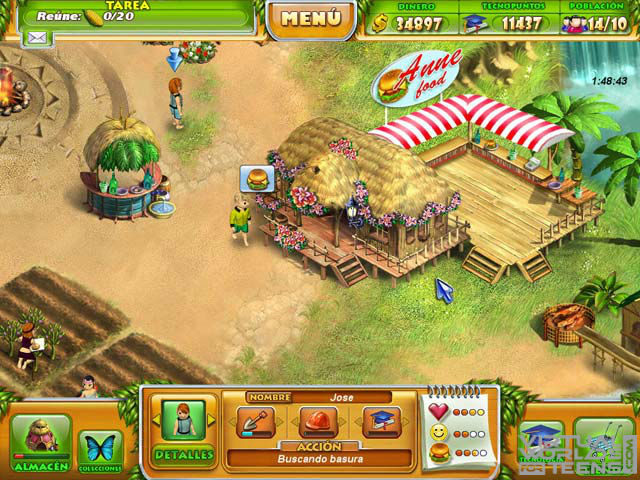 You are also building a village. It is going to be quite empty when you start and it is your job to fill it up. Fish markets and areas for socializing are just a couple examples of what you can build here.
What you are going to quickly realize is that a lot of what you are building serves a vital purpose. Without these buildings, your tribe will not have the space or items that they need. Building this stuff gives them the chance to do more and to grow.
For more screenshots, click here.
To help you through the game, there are quests. These quests are easy to do and they are not going to be overly challenging. This may seem as a downside to some, but the main focus of the game is developing your tribe. Various tasks are handed out to you so you are going to have challenges and jobs, but they may not be as difficult as you might like.
You can let the villagers take care of themselves. While other games will have the people begging for your assistance, this one gives them the ability to care of themselves. When their needs are not being filled, they will do things on their own. Just remember not to leave the game running without you, even if that sounds like a good idea at first. Worms can attack and they will cause problems, bringing down your hard work.
Watch more videos on their YouTube channel: Farm Tribe on YouTube.
Sooo, did you think this game looks cool? If yes, Like!