Fantastic Pets Game: From Kitties and Dogs to Dragons and Unicorns
What Is Fantastic Pets
Kinect animal training game is what Fantastic Pets is all about. This game spells kids! kids! kids! This game is a great deal more and is a far cry better than what we have come to expect from games for boys and girls of all ages.
This game is extremely polished but also has a great deal more going for it under the surface. You have so many things to do that there is little to no room for boredom! You are offered many more types of pets than other games, minus annoying flying creatures and sounds like Invader Zim.
About The Game
You have a looney Uncle who has a collection of animals and wants you to care for them while he jet sets around the globe. You pick one animal to care for but start choosing more as the game goes on. The collection is awesome — from your cats and dogs and ponies and lizards to way to fantastic dragons and unicorns!
This feature is way too cool — you can customize your animals in a million ways. Change their fur, colors, eye color, shapes, body sizes and even give them wings or horns and so many other amazing appearances! On top of that, you can change their attitudes from cute and cuddly to fierce and wild!
The box art leaves you believing you must have cute only, well this feature is so far beyond that! Have fun and make you animals as unique as you want them to be. This feature is absolutely perfect for both boys and girls because you can have cute and sweet or mean and wild!
As you continue playing the game you will unlock new custom options which makes this game rewarding and exciting!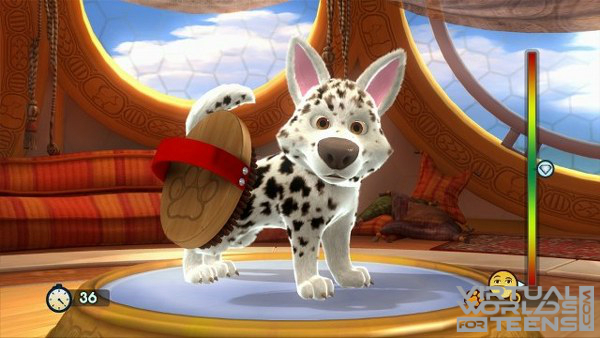 Gameplay
If you know about Kinectimals, this game is very similar to that. It's a combination of animal care simulator and mini-games. You must feed and wash your pets and play games with them, using an array of toys. You can teach your pets new tricks as well as have them compete in various talent shows.
The game, generally, takes place in certain designated areas within the game world. The game does take on a sort of an enhanced reality using Kinect's camera to display you, the room your playing in and makes your pet appear to fly around or run through the room. How cool is it that while you will feel like you are literally in their house when all of this is going on?
Graphics
This is a really good looking game! The world of game is really sharp, clean and nice to look at. The pets are so darn cute it's unbelievable! The overall charm is that the pets look a little extravagant and almost have a caricaturized tone, but that adds to the overall charm of the game. The animation is very good when your pet is running around your house and looks so natural.
For more screenshots, click here.
Sound
The animals sound exactly like they should, adding little grunts, growls and snorts. The voice reality for the computer and for your Uncle is also very realistic.
Summary
This game offers so much fun and tons of things to do. The customizing alone is absolutely awesome for both boys and girls of all ages. If you like Kinectimals than you will enjoy Fantastic Pets! If you have children or grandchildren that love pets, they will love this game.
So grab your friends and family and come have some great fun!
Sooo, did you think this game looks cool? If yes, Like!