NOTE: this game has been discontinued. Find similar games here: Chat Worlds.
Fantage Comet is an addictive game for mobile devices that gives you the chance to dress up, chat with friends, and explore. This game has tons of places to go and is exciting from the moment that you start. You can meet new people, collect items, customize yourself, and even try out your style with the fashion show.
It is going to keep you coming back with its exciting and wondrous experience that you rarely find in games today. It works spectacularly well, looks good, and plays better than you might imagine. It may be a simple game, but it is definitely not lacking in any areas.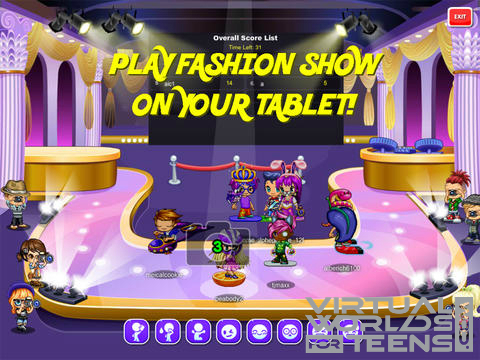 You are going to have your own avatar in Fantage Comet, as you do in most of these types of games. With this avatar, you can move around, explore, and take part in fashion shows. Make its style represent you, whatever you want it to be. You can go wild with the items or you can tone it down, or you can go for a nice in between. However you want to look, there is going to be something in this game that fits you. There are items after items for you to collect and use here.
The items that you can collect in Fantage Comet are truly extraordinary. If you want to play with your style and look better, see what is around and collect as much as you can.
There are many items in this world so try to get them all. Collecting items will help you to find new ways to express your style, give you new ideas for outfits, and give you the chance to have fun more often. For those of you who enjoy dressing up, collecting is certainly going to be part of the excitement that this game offers.
When you feel that you look your best, try your hand in the fashion show. The fashion show is definitely one of the best parts of Fantage Comet, and anyone with a love for fashion is going to feel the same way. Show off your style with other players and see how you compare.
For more screenshots, click here.
It is great to get ideas for new outfits and to see just how good you are with dressing up. Fashionistas can use this as a way to show off their impeccable skills and to see if they are truly as good as they think they are.
Since Fantage Comet is a social game, you are going to have a large community of players that you can use for conversations. Talk with others about style, them, yourself, the game, or whatever else pops into your head. The community here is truly wonderful, and they are going to help you to feel welcomed and comfortable. It is a safe place for talking, too, so you do not have to worry about any issues that many chatting feel dangerous. You can go here and enjoy yourself fully, and you can even make some new friends along the way.
Watch more videos on their YouTube channel: Fantage Comet on YouTube.
Fantage Comet is free to play.
NOTE: this game has been discontinued. Find similar games here: Chat Worlds.
Sooo, did you think this game looks cool? If yes, Like!