NOTE: this game has been discontinued. Find similar games here: Avatar Creators.
Facemakr is an app that uses multitouch gestures and social networking connectivity to create a fun experience with these key features:
Use multitouch gestures to rotate, scale and position!
More than 600 parts to choose from!
Use the avatars you create and assign them to your iPhone Contacts!
Tweet your profile picture from within the application!
Uploading to Facebook is built in!
Go to the iOS GameCenter to unlock new parts!
Download and upload presets from your Gallery!
Position, Scale and Rotate with multitouch gestures!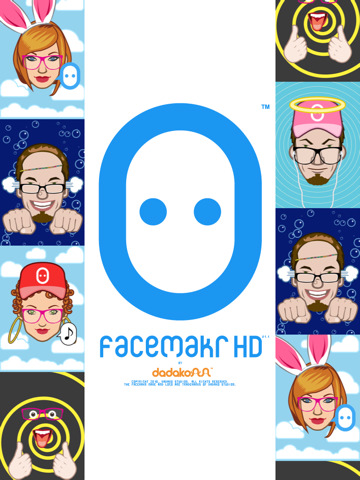 If you have used maps and photos on your mobile device, then you are already aware of the finger gestures used to create an avatar. Facemakr goes a step further than the other basic avatar creators by allowing you to use your iPhone and iPad in the way they were intended.
One finger to Slide to position
Two finger Pinch to scale.
Two finger Twist to rotate.
All new parts with in-app purchases
Choose from over 520 parts!
All of the parts available in Facemakr have been painstakingly created by professional illustrators. They include more than 70 different hair styles, 30 beards, over 30 male and female eyes, plus much, much more! Watch for new items being added regularly to increase your combination possibilities.
Check out these great features
Assign Avatars to your iPhone Contacts list!
Spice up your address book.
Tweet your profile picture from inside the app!
Makes changes to your Twitter profile picture from within the Facemakr app. Rather than sending a link, Facemakr goes in and automatically changes your profile pic, allowing you to add a custom tweet with your update.
Facebook wall uploading is built in!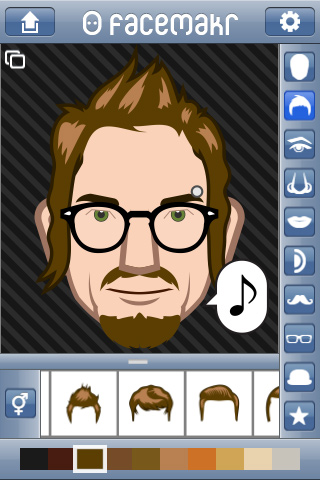 For more screenshots, click here.
Facemakr also allows you to send your avatar to Facebook from within the app, without ever having to switch apps at any time. Type in your info, tap, and the upload is complete.
Save in various ways
By saving your avatar to the internal presets, you can edit and share as often as you like. You also have the option of saving them directly to the photo album in your iPhone in stunning HD. There are no restrictions placed on how you want to share your avatars.
NOTE: this game has been discontinued. Find similar games here: Avatar Creators.
Sooo, did you think this game looks cool? If yes, Like!