Face Your Manga is a super cool avatar generator for the iPhone and iPad.
You can get started right away by collecting colored Manga Avatars and have some real fun creating avatars of your own. The avatars you create can be saved in the Gallery of your iPhone and changed as often as you like. You can match them to all of your contacts and even share them on social networks.
This is an app you simply can't miss: get on the Manga invasion now!!
A TOTALLY UNIQUE EXPERIENCE
What are you waiting for? You can start your Manga Avatar creation in a matter of moments, harnessing the power of touchscreens with the Face Your Manga app. We defy you to count the number of combinations that are available to you in the graphics engine that had been given a re-write for iPhone and iPad.
You will be delighted with how easy it is to create all kinds of different avatars. You can even make them look like your friends and family thanks to the huge selection of graphic elements, backgrounds, and clothing that are available to you.
FEATURES
A massive library of Face Your Manga graphics
Advanced Move Object and Zoom functions
Internal gallery
The ability to modify saved Avatars
Save on your iPhone [Paid Version Only]
Attach and send via e-mail [Paid Version Only]
Match avatars to your contacts [Paid Version Only]
Create random avatar by shaking your device [Paid Version Only]
Share on Facebook and Twitter.
Right now, Face Your Manga is the only social application that allows you to create, modify, collect, and share all the avatars you make. You can even go and check out the avatars made by other users, leaving votes and comments for those that you like. Show off your own avatar creating skills.
There are similar types apps that make you create your avatar over and over again or ask for your e-mail to gain access. Face Your Manga is different in that you can sign up for free and make modifications to your avatar whenever you want to. You can create and save all of your avatars in your personal gallery without ever having to submit personal information. Become part of the Face Your Manga social experience to see all of the great things you can do.
Create and Collect Your Manga Avatars
There are an amazing number of creative possibilities available to you when you access the massive graphic engine. Collect avatars that look like your family, friends, favourite celebrities, or sports teams and personalities.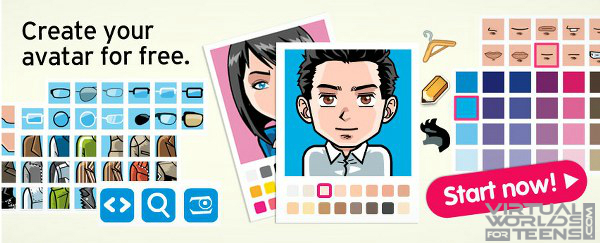 For more screenshots, click here.
Share on Facebook and Twitter
Share all of your hard work on the top social networks. Just imagine how much fun it would be creating avatars for all your favourite friends on those sites.
Discover Faceyourmanga World
Take the time to explore the Face Your Manga world to see all of the avatars that the other users are creating, whilst showing off your own.
Watch more videos on their YouTube channel: Face Your Manga on YouTube.
Face Your Manga is free to play.
Sooo, did you think this game looks cool? If yes, Like!