High fantasy, romance, and an adventure await you in Eldarya. In a place of magic and fairies, you are going to have to explore, find answers, and find love. Develop crushes as you see the world, find out the truth, and do much more. Beautiful anime style art and an engaging story really sell this visual novel, giving you a story and characters that you are sure to love. Anyone who already loves visual novels will adore everything here. Newcomers to the genre will appreciate the romance and the story, and everything that you can do and see. Play as often as you would like to unlock all art and story possibilities.
Visual novels go high fantasy often. Fairies and magic are no stranger to this genre, with stories of all types taking you to these worlds. High fantasy in Eldarya is a lot of what you would expect, but with mystery and a unique story involved. It will make you love the genre even more.
A circle of mushrooms transport you to a strange place, where you are thrown into prison. This sets off a chain of events, making you see things and having you meet new people. Magic is at work, and you are trying hard to figure out what is happening. Through conversations and navigating the world, you are going to uncover secrets as you learn more about the characters around you.
Each character is unique and full of personality. In their design and in the way they speak, they each show off their individual personalities. You can talk to them, learn more about them, and grow closer to them. As you do this, you can start to form crushes on them. Begin your romantic adventure as you build up your relationships and grow closer to the boys. Choose your favorite and start your romance right away.
You can continue to develop that romance over several episodes. Eldarya breaks up the story into these episodes for easier consumption, to give unlockable art, and to have a storybook-like progress to it. As you finish each chapter, you are going to make progress in not only the story, but also your love interests and everything that you do with these relationships.
The unlockable art is gorgeous. Depending on what you do, you can get special art after each chapter. This is art that you can view at any time through the menu to check out your favorite boys and your favorite parts of the story. This is only one of the unlockable parts of the game, too. Another is the story itself. Like any visual novel, you can unlock different paths in the story depending on what you choose to do. Replay as often as possible to see every bit of the story.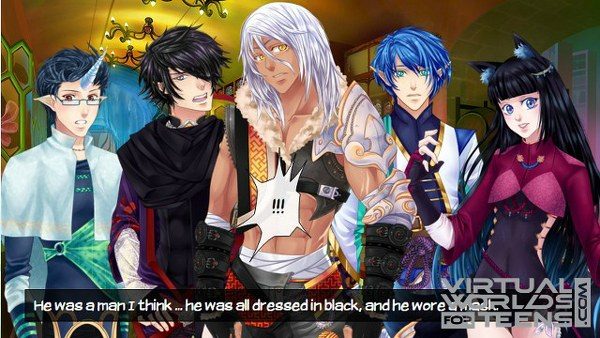 For more screenshots, click here.
Eldarya is a fun place to be, though the story is aimed at a more female audience, especially as there is only 1 character and she can only have crushes on the male characters there is still a lot of fun to be found. There are new episodes being launched all the time and they develop the story in a really nice way.
Few things can compare to the joy, romance, adventure, and mystery of Eldarya. For those who love visual novels and high fantasy, and want to see them done well, this is what you have been wanting.
Watch more videos on their YouTube channel: Eldarya on YouTube.
Eldarya is free to play.
Sooo, did you think this game looks cool? If yes, Like!