Now it is your chance to really build the city of your dreams in Dream City: Metropolis. Here you will be able to play as mayor and be able to immerse into a unique gaming world with 3D graphics and build your very own huge city from the ground up. When it comes to city building games, this is a high quality city building world that has top notch graphics and a lot of unique gameplay features that you can enjoy as you play your way through the unique storyline.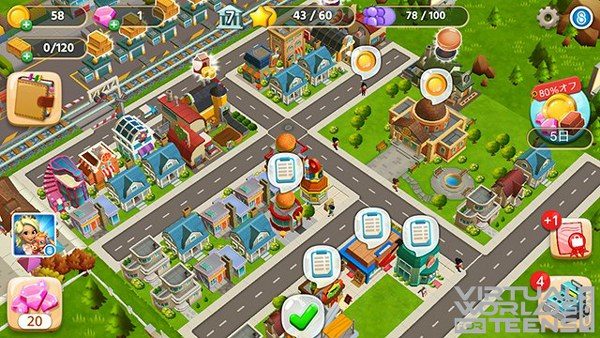 Of the big things that you will notice about Dream City: Metropolis is that it has a really in depth tutorial that is unlike any other type of city builder can offer. Once you enter into the game for the very first time, you will be shown all the basics in a step by step type of tutorial that will tell you about everything that you will need to know to be able to properly play the game. Not to mention that it is really informative, this tutorial will also give you some really great incentives for completing the tasks that it asks you to do.
When it comes to the gameplay, you will notice that it has a pretty high level of quality and when you look at it from the technical view, it runs really smooth without any issues and there isn't any big glitches or bugs that will ever stop you from getting the great quality experience from playing. Just like other city builders, the objective for this is to turn your tiny little city into a huge metropolis that is really thriving and you will have to do this by creating a whole lot of different buildings while you set up new businesses and manage the economy and trade correctly while you upgrade your structures such as the town hall to be able to unlock new and exciting features.
When we talk about Dream City: Metropolis being really in depth, this means that you are going to have to keep track of a whole bunch of things at once from the population to the economy of your city. You will actually need to keep a close eye on your population and increase your housing situations when it is needed if you plan to keep building your city up and if you want to have more people come to your city.
For more screenshots, click here.
When it comes to visuals of this game, then you will notice it is great to look at. It has a top down view that is similar to other city builders, but this game is actually 3D, so the game looks so much better than the others in this genre. The city is very lively because of the vehicles and people that are constantly moving around and the colors are eye catching and the special effects and animations are even better to look at. There are things that you can purchase using the in-game gems that you will have to buy with real world money but you can use the gems to purchase your coins or speed up upgrade tasks or construction.
Dream City: Metropolis is a great game that really goes above what you would expect in this immersive and fun world.
Watch more videos on their YouTube channel: Dream City: Metropolis on YouTube.
Dream City: Metropolis is free to play.
Sooo, did you think this game looks cool? If yes, Like!