NOTE: this game has been discontinued. Find similar games here: Fashion.
If you have ever enjoyed dressing your fashion dolls up for special occasions, then Doli Girls Barbie Fashion Dress-Up Game is the hot mobile app for you. This set up allows you to bring out your inner stylist just in time for Halloween. Now anywhere that you go, you can take your fashion ladies along with you and put together new outfits for them whenever the mood strikes.
For the low price of 99 cents you can adorn your miniature models in cute, stylish Halloween garb as inspiration unfolds in your Doli Girls' virtual closets.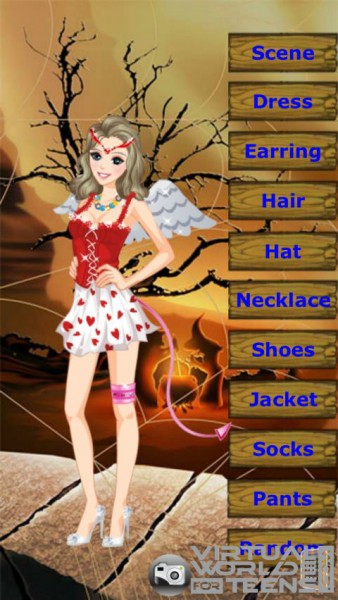 Would you want to see your little fashionista dressed as a wicked witch who is in tune with the current trends?  Then with this delightful app, you certainly may. Your Doli Girls are in need of designer disguises for parties that celebrate the mystery and mischievous fun of the All Hallows Eve season.
This game lets you create head to toe looks all the way down to the ever important accessories.  You can even set the scene to complement whatever clever costumes that you design for your portable models.  Cute and creative, sassy and spooky, or fun and fiendish are just a sample of how you can put together your virtual wardrobe for this supernatural season.
You are able to set the stage for your fashion doll's entry into the hottest virtual parties of the autumn.
You can imagine how much fun your Doli Girls will have and how heads will turn as your pretty pirate, fabulous phantom, or drop dead gorgeous devil struts into the room.  You may even be inspired to take some of your virtual ideas and use them in reality for your own Halloween attire.
For more screenshots, click here.
With the Doli Girls Barbie Fashion Dress-Up Game you can pass the time in the waiting room, the salon, or riding on the bus, flexing your style muscle.
So if one of your favorite pastimes is getting ready to go out, you can do so over and over when you gussy up your virtual model for the party.  Get into the Halloween spirit and stay there year-round when you come up with great ways to clad your fashion ladies in unique costume combinations.  The best part is that you do not have to have a big bank account to be able to put together the hottest outfits for harvest time gatherings, whether ghoulish or glamtastic.
More Games Like Doli Girls Barbie Fashion Dress-Up Game
NOTE: this game has been discontinued. Find similar games here: Fashion.
Sooo, did you think this game looks cool? If yes, Like!