Dofus is set in a fun, cartoon-like fantasy world. It features a vast, epic world that has several different warrior classes, PVP based on guilds, and various different modes of play including being a merchant and crafting.
This game is popular internationally because of its low system requirements and the fact that it runs on flash. It is actually one of the most widely used MMORPGs out there right now. This is due to the combat system and the visually appealing graphics. The game is set in a place called The World of Twelve, which is named after the twelve character classes that exist in the world.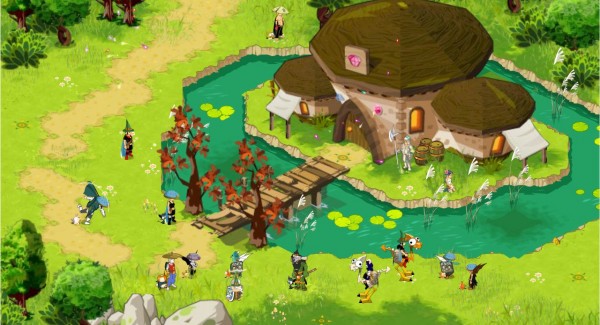 During gameplay, you will control a personalized character that is part of one of those classes. You will gain experience and levels as you play. Defeat enemies and finish quests to get more experience and level up. With each level, you also get a spell point, five more live points and five characteristic points. These are used to upgrade your character's skills. As you character reaches higher levels you will be able to buy different types of equipment.
Once you reach the 100th level, you will a special item called an aura, another one of which you will get at the 200th level, which is the highest level you can reach. You can choose a profession and recruit friends to conquer dungeons. By joining a guild, you can interact with other players much easier.
The twelve character classes that exist in this world are Ecaflip, Osamoddas, Sadida, Iop, Eniripsa, Xelor, Enutrof, Sacrier, Cra, Pandawa, Sram and Feca. These are all classes that are unique to this game and that you won't find anywhere else. The game takes place in real time but the combat is turn based. This consists of taking a turn to do a series of attacks, then waiting for your opponent's turn to be completed.
Once you have begun a fight no other player can join it. The spells in this game are really helpful and can do different things such as healing, decreasing the opponent's movement points or action points, attacking and defending. As you make moves and attack, your own AP and MP will be reduced. The combat system in this game allows you to form strategies to defeat your enemies.
For more screenshots, click here.
The game was recently updated with re-written code that was done using Action Script 3 which makes the game much more responsive and faster running. Over ten thousand maps were redrawn and two thousand animations redone. All of these changes have increased the quality of the game and the level of enjoyment.
It also enables the system requirements to be easily met by all. You don't need a special gaming computer to play this game; the average PC will do. Also, this game really keeps you engaged in its deep and involving game play and its highly detailed, expansive worlds. Even after you max out of levels, you will be able to get more out of this game.
Watch more videos on their YouTube channel: Dofus on YouTube.
Dofus is free to play.
Sooo, did you think this game looks cool? If yes, Like!