Who doesn't love every single one of the great stars that come from Disney; not to mention, the awesome music that accompanies them? Now you can be a part of the Disney show. Sing your favorite songs and be a part of the coolest videos created by the hottest Disney stars right in your own game room!
Get your friends and jump into the wonderful world of Disney by playing Disney Sing It. You will get to be the performer and show off your skills to the 35 chart topping tunes such as hits from so many of your favorite movies. With so many names like Hannah Montana, Cheetah Girls, Aly & AJ, Jordan Pruitt, Everlife, Corbin Bleu, you will not be able to play for just a short while. Jump right into to some Camp Rock, High School Musical, and so many of the other stars to express your favorite style of music.  These are just some of the hot names available for you to jam to in your own house!
Take your spot on center stage as a solo artist, discovering the inner performer in you. This game will also allow you to join with friends in a sing off. Show off your vocal power and possibly throw in some hot dance moves when it is your turn to shine. You can add up to seven friends to be a part of an ultimate karaoke experience.
This game offers you single play or multiplayer modes that allow you to incorporate duets or team versus team play. Create your own Disney rock band and complete with others. There is even a mode called Gig Mode that allows you to perform a live solo or duet concert with a friend. You will be able to design your very own set list and sing back-to-back up to five songs.
Take it to a professional level and get tips from the loveable music director from High School Musical. You will find perfection as she guides you through a variety of vocal exercises. The awesome thing about this feature is, pros use these same tactics to perfect their singing skills. How cool is this?
Take advantage of the exercise features offered in this great game. You will be able to execute warm up exercises, learn pitch control, accuracy, proper breathing, as well as harmony. These are very important when being an actual star that you will enjoy learning how to become one.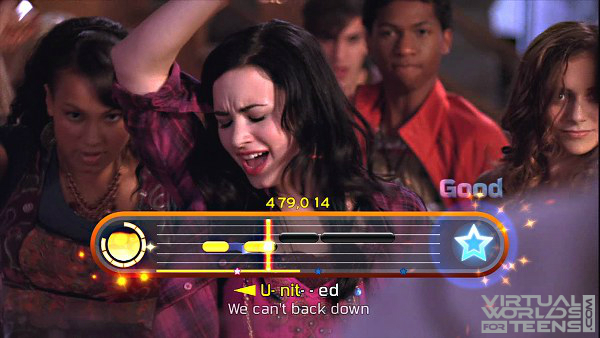 For more screenshots, click here.
Disney stars take time to get it right and this game offers you the ability to learn how to get it right so you can practice, and become a star yourself. This is just one of the many benefits of this game that you will find. Allow it to take you to perfection.
Make sure to customize your star experience by choosing the best songs and exciting backgrounds and themes to go along with your performances. You will never have to have the same show, ever!
Sooo, did you think this game looks cool? If yes, Like!