Darkness has taken over the Disney park and characters in Disney Magic Kingdoms. Maleficent has cast a spell that brings darkness to all areas of the park, and it is on you to lift it. You will have to work alongside many popular Disney characters, including Mickey Mouse, if you are to save everything and everyone. Complete tasks, get people on the rides, and face the challenges of a park shrouded in darkness. It is not easy, but the challenges and entertainment will keep you coming back over and over. With the fantastic graphics and animation, it is a treat for the eyes and mind.
The game starts when Maleficent casts a spell on the park. Mickey and the Wizard are there, showing you how to counteract the spell and lift it. It is not as easy as saying a few words and you are done, however. It is going to take a lot of time and effort on your part, and that means you will have to give it your all. Luckily, doing so is entertaining. Disney Magic Kingdoms has plenty of challenges and tasks available to you that will help you in lifting the spell, all set in this wonderful Disney setting with the characters that you already love.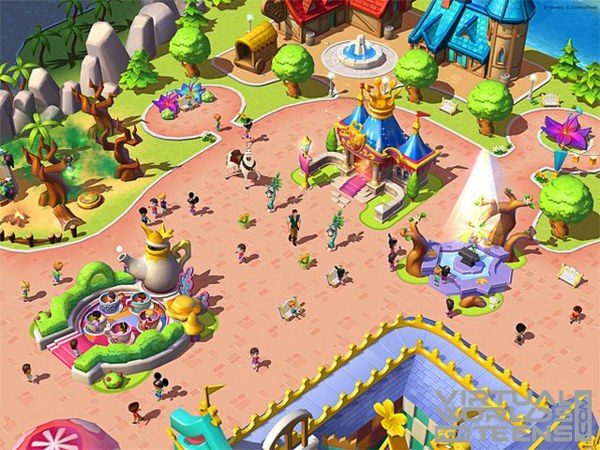 You are going to have to complete tasks for various Disney characters. Mickey, Woody, Belle, and more are all in need of you. You are going to have to meet up with them and talk to them about what they need, and you are going to have to complete tasks. Think carefully about which tasks you complete as you will have to spend a lot of time on each.
Rebuilding the park is the biggest part of the game. In order to get people to come back, you will have to build it up by adding important features and rides, like a Ferris wheel. Many of the things you see here are in actual parks, too. It is true to life, bringing in all of the things that you loved when you visited the parks or that you have always wanted to try.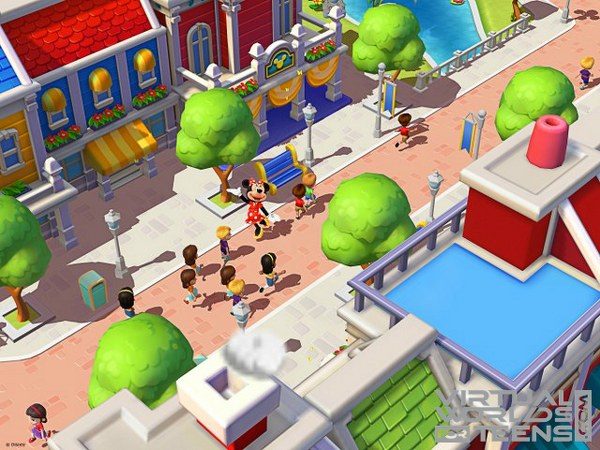 As you continue to progress in your theme park building, the guests start to arrive and a good number of the quests turn into making them happy and granting wishes. Making your guests happy also has the bonus of extra awards.
Like most other builders, it does take time to build things here. This is not necessarily bad, but it can become time consuming. Not only that, but you also have to have some strategy when placing items. You have to think everything through if you want to do this well. Gems can rush things, and you can earn some back in rewards, but they run out fast.
For more screenshots, click here.
Everything about Disney Magic Kingdoms looks and feels right. The graphics and animations are beautiful, what you would expect from a mobile game from Disney. It is cartoonish and simple, staying true to the style the company has uses for years. The story is wonderful and engaging, as well. It brings in characters that you love, good and bad. Mickey and Goofy, Pete and Woody, and so many others from across the Disney world. It is a combination of everything you loved growing up.
Disney Magic Kingdoms is a fun way to unite your favorite Disney characters and park attractions under one banner, the gamer in me is having a wonderful time exploring everything in this world. Likewise the game pleases the Disney collector in me and makes me excited to see what I will be able to get my hands on in the future. Disney Magic Kingdoms is in my book a must-play for any Disney fan.
Watch more videos on their YouTube channel: Disney Magic Kingdoms on YouTube.
Disney Magic Kingdoms is free to play.
Sooo, did you think this game looks cool? If yes, Like!