NOTE: this game has been discontinued. Find similar games here: Simulations.
Disney has outdone itself with Disney Infinity: Toy Box. This massive game uses many of its most popular characters from both Disney and Disney Pixar in a fun and exciting way. You have the chance to play as Sulley from Monster's University, as an example, along with Mike and Randy.
When you first begin playing, you are going to have a starter set with three characters, Sulley, Captain Jack from Pirates of the Caribbean, and Mr. Incredible from The Incredibles. This gives you the chance to play in world, follow stories, and explore as the character that you like the most.
There are two ways that you can play Disney Infinity: Toy Box. The first is Play Sets. This is where you go into your character's world and explore. There is a lot to do here and some amazing stories to follow. You can defeat the rival university as Sulley or you can fight pirates as Jack Sparrow, along with so much more. The stories keep you interested in the large world and are great for all ages.
Toy Box is the second option. This takes you out of the story and puts you into a world that you can make your own. Using the available power disks and your own imagination, you will be able to create and have whatever you want. Buildings, race tracks, and vehicles, just to name a few, are available. You can use your favorite characters to explore your creation and have fun, too.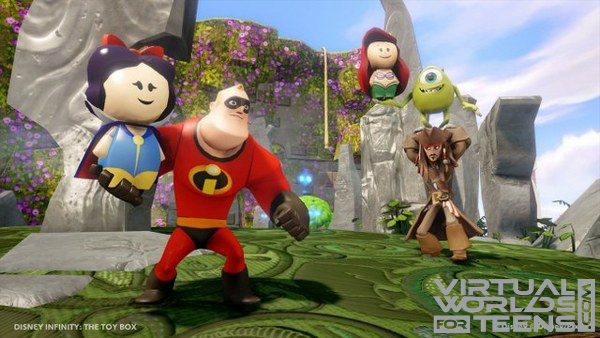 You can play with others in your Toy Box online. Explore your own with friends or go to theirs to see what they did. This gives you the chance to take advantage of your additions in even more ways. When the game is launched, this online feature is going to take the Toy Box even further.
You can submit your own and have a chance to have it featured. People will be able to play in your Toy Box if you are chosen as featured, too. There is an option that allows users to download and save Toy Boxes to use. You can collect and explore them whenever you want to.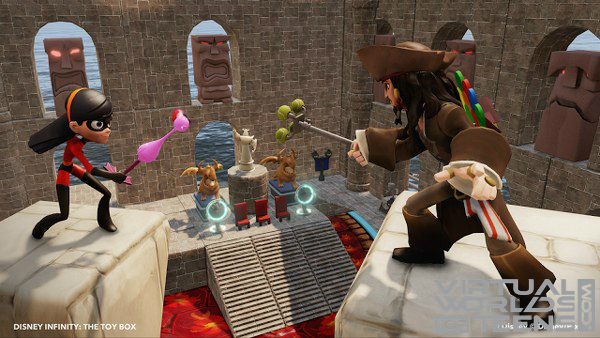 For more screenshots, click here.
The characters that you receive in the beginning are only the start. You can purchase more directly from the store, either as single figures or in groups. Right now, you have Monster's University, Pirates of the Caribbean, and The Incredible. The selection is growing, though.
Soon, you should see Cars and The Lone Ranger figures available. You will be able to purchase each of them to unlock their stories and have even more fun with your online world. Remember to collect the power disks so that you can do more and more with your world as well as check the downloadable content online.
Watch more videos on their YouTube channel: Disney Infinity on YouTube.
NOTE: this game has been discontinued. Find similar games here: Simulations.
Sooo, did you think this game looks cool? If yes, Like!