For kids, playing online is not always entertaining. You have to find a mix of educational, interesting, and safe for them to play and that gives the parents peace of mind. Dino Tales is just that game. You enter and explore as a baby dinosaur, checking out a large world full of dinosaurs, fossils, and plants. While roaming, you can learn more about everything around you. It is made with children aged 4 – 11 in mind, too, so you know that it is appropriate for younger audiences. Jump into your baby dinosaur and see what the world has waiting for you here.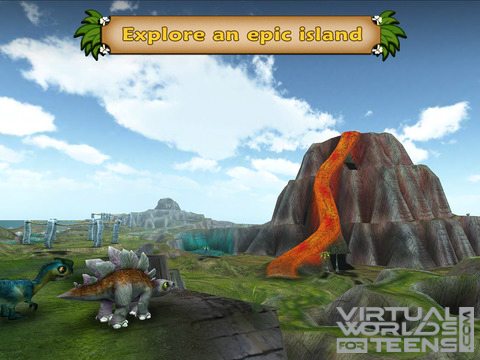 You can hatch six dinosaurs in this game. You are going to play with them and nurture them so that they are happy. With them, you can explore and see this massive world. It is full of dinosaurs, fossils, and plants waiting for you to investigate and learn. While exploring, you can play games and experience the life of these cute little dinosaurs for yourself. It is an interesting and giant world that does not hold you back. You can explore anywhere here, finding more to love about dinosaurs every step of the way. All types of land and life is around you, waiting for you to become an adventurer.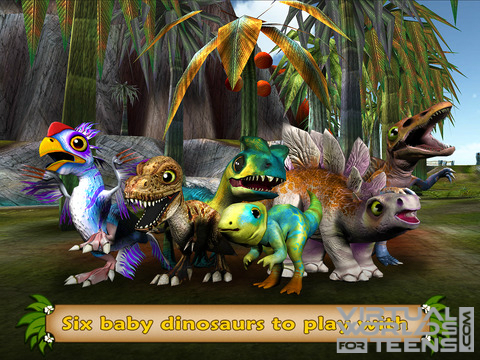 Dino Tales is not all about games and exploration. Anyone with a fondness of and interest in dinosaurs will want to play because of the educational aspect of it. Learn more about dinosaurs as you explore and ask Darwin, the talking dinosaur, any question you have using the word wheel. Choose your question and see what Darwin has to say. You can learn so much about dinosaurs from simply playing this game and asking questions. It is all safe, too, so younger audiences should enjoy it just as much as the older audiences.
For more screenshots, click here.
Your story in Dino Tales should not stick with you and only you. Fill a storybook that you can personalize and share. Read it with friends and family, showing them everything you have done in this world. Bring your adventures to life. You can tell people about all of the amazing things you have learned, the amazing sights around the game, and the experiences while playing. Show them what you have collected, too, like fossils. Bring the entertainment with you wherever you go, getting your friends and family interested in the life of dinosaurs, as well.
Watch more videos on their YouTube channel: Dino Tales on YouTube.
Sooo, did you think this game looks cool? If yes, Like!