NOTE: this game has been discontinued. Find similar games here: Fashion.
Digital Dollhouse is the creation of Digital Playspace. This is a social playspace for girls rather than a virtual world setup. Where other developers work to attract a large audience, covering many different aspects, Digital Dollhouse is created for a more specific group of girls.
Digital Dollhouse Content
Unlike similar games, this game focuses on many activities rather than doll dress up. Players have a wonderful array of items for girls to decorate to their heart's content using Dollhouse Dollars they have collected. Dollhouse Dollars are collected through doing various activities or may be purchased through Pay Pal.
Playspace vs Virtual World
As Digital Dollhouse is more of a playspace vs a virtual world, it is not heavy on interaction like virtual world games are. The game does not have chat rooms or loaded with advertisers seen in other games, but there are fun social features.
The game offers a friend list, allowing players to share each other's creations and trade items back and forth. Players may also take advantage of a wonderful feature called Dollhouse Cam. This little feature allows players to show off works in progress to others that might be interested.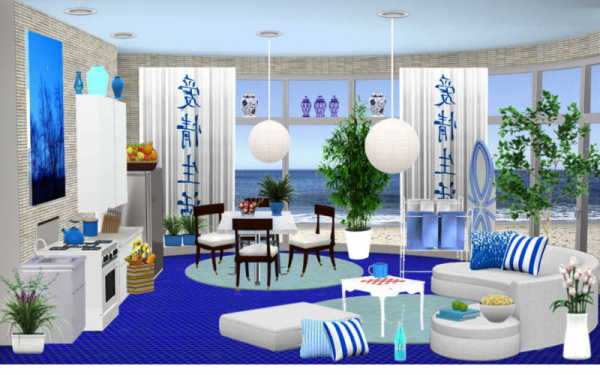 Digital Dollhouse also offers a light educational mode where girls can get a sense of designing elements such as furniture that legitimately comes from artistic periods in history instead of just made up.
The World of Digital Dollhouse
From the team at Digital PlaySpace, Inc., Digital Dollhouse empowers kids to collect, share, create and display their work in a very realistic 3D virtual environment. Friends and family can watch kids play with their virtual toy while enabling players to use self-expression, creativity and imagination.
For more screenshots, click here.
The team is also dedicated to creating an environment that is keeping kids safe in a chat free environment.
In A Nutshell
Digital Dollhouse does not have chat features, but kids can communicate with each other by voting on each other's snapshots. Users cannot share personal information with others which makes this game safe for kids and gives peace of mind for parents.
This is a great game for kids to have fun, express their creativity and have a whole lot of fun while remaining safe on the internet.
Watch more videos on their YouTube channel: Digital Dollhouse on YouTube.
Digital Dollhouse is free to play.
More Games Like Digital Dollhouse
NOTE: this game has been discontinued. Find similar games here: Fashion.
Sooo, did you think this game looks cool? If yes, Like!