Design your own home in Design Home. You get everything that you need to design a beautiful home, whatever you preferred design tastes are. With the high quality graphics and real items, you can make something that looks astounding. You can even enter competitions to see whose styles are the best, or vote in them to judge others and get some ideas. If you like the items that you see, buy the real life versions directly from the app. It is the perfect app for any person who loves home design and wants to bring a little into their life, virtual and real.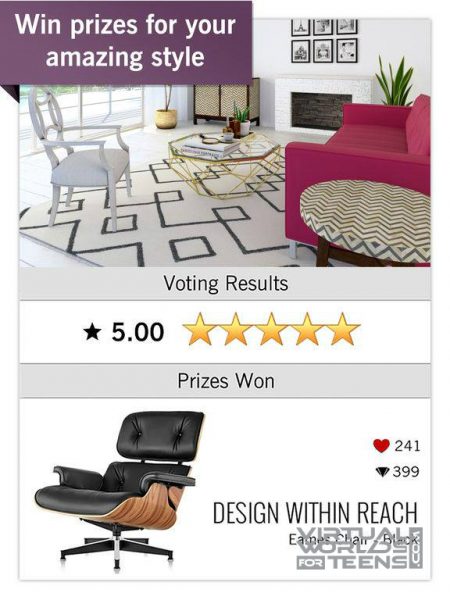 Design Home is a straightforward app. It is all about designing a home to your own tastes. If you like modern, clean styles, you can design a home with that in mind. If you prefer something rustic or beachy, you can design a home that way. It is all about using your own tastes, and the items available, to design a place. There are a lot of items here, too, so finding something that you like is not going to be a problem. Whatever your tastes are, there is going to be an item that works for you.
The items here look good because they are real items. This game takes real items, from real designers, and puts them into the app. Chairs, dressers, and more that you see are virtual versions of actual items. These are items that you can purchase for yourself for your own home, all available to you through the app. Since they are all real, the quality and designs are impeccable. You have professionally designed items available to you in all looks and types. Make the home of your dreams with true designer items.
One of the reasons making a home is so easy is because you can choose the home itself. You do not have a blank space that you design around; you have a variety of actual homes to use. From brownstones in New York to beach homes in California, you can get the exact look that you are after. This gives you full creative control over how your home is going to look in the end.
If you want to show off your design, you can enter in the competitions. You can enter your home for others to judge, with potential rewards on the line. If you do well, and people vote for you, you will get a prize that you can use towards future designs. You can also vote on others' homes to see what they have done, to judge using your sense of style, and to get ideas for future designs.
For more screenshots, click here.
If you like any of the items that you see in Design Home, you can buy them. The partnership with the designers gives you direct access to all of the designer items that you love. Buy them for your own home and show off your sense of style in real life. It is an extension of the game experience that will benefit your home.
There may be some issues about the game like the challenge requirements and how the items purchased can only be used for a number of times, but all in all, Design Home is fun. If you love designing homes, this is a great app that you shouldn't miss.
Watch more videos on their YouTube channel: Design Home on YouTube.
Design Home is free to play.
Sooo, did you think this game looks cool? If yes, Like!