NOTE: this game has been discontinued. Find similar games here: Multiplayer.
While MMORPGs have come a long way in terms of graphics and gameplay, many people still like old fashioned RPGs. If you're one of those people, then you will love Dark Eden. This game features old school roleplaying gameplay with 2D graphics.
The game has three factions, the Vampires, Slayers and Ousters. All of these factions are in an all-out war with each other in a post-apocalyptic world filled with guns, swords, and other deadly weapons. All three classes are greatly different from each other.
The 2D graphics and ¾ camera angle give this game an especially vintage feel. It is actually one of the oldest MMORPGs in service. It was originally released when 2D games were still considered the norm, whereas now they are old school. Fans of these types of older games will find enjoyment in this game.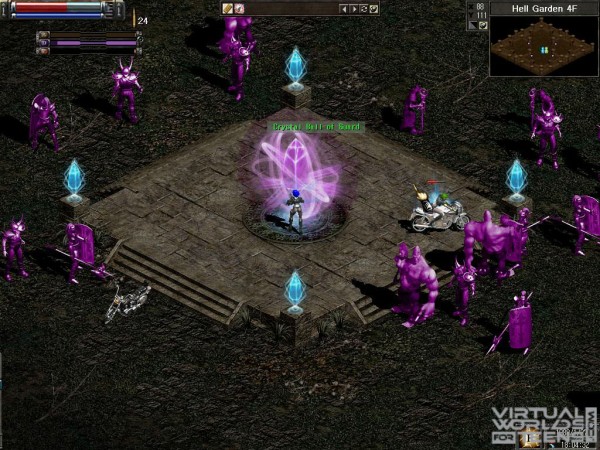 Each of the races is different in regards to movement, combat style and uniform. Players level up their characters and increase their various skills before engaging in PVP battles. Here are the details on the different races:
Vampires: These creatures are the rulers of the night. By attacking, you can increase their stats. As the vampires gain more levels, they get new skills. Vampires also have the ability to bite others of different races and turn them into vampires.
Slayers: These are Holy warriors whose job is to hunt vampires. They must improve their skills by fighting and allocating their stat points for each level. Slayers are able to use weapons such as swords, maces, and axes along with rifles, sniper rifles and pistols.
Ousters: This group is made up entire of females. They reside in a forested cave but emerged from their home to win their land back from Vampires and Slayers. They prefer to engage in melee combat and get new stat and skill points each time they gain a new level.
This game mixes a science fiction element along with horror, fantasy, and medieval themes. Each race has its own set of weaknesses and strengths, making them all distinct from each other. They all have their own growth system, skills, items and classes. You can also use a variety of vehicles like boats, motorcycle, helicopter, warp tunnel, sylph, and jam. Another feature of the game is the time influenced gameplay.
For more screenshots, click here.
Whether it is night and day affects the vision of the characters, the environments and how powerful the characters are. For example, vampires are more powerful at night and Slayers more powerful during the day. There is also a rank system in place. The higher your rank is, the more skills you can learn.
The game is just like any other RPG in that you have to level up your characters so they can get stronger. It features an interesting story in which you follow the war between the different races in the world of Eslania. The game has very diverse gameplay that both lovers of classic games and those who love new gamers will both enjoy.
Dark Eden is free to play.
NOTE: this game has been discontinued. Find similar games here: Multiplayer.
Sooo, did you think this game looks cool? If yes, Like!