NOTE: this game has been discontinued. Find similar games here: Dancing Games.
Do you like music? Are you are bored of the same, old video games? Try an exciting new game called Dancing with the Stars: Keep Dancing. Dancing with the Stars: Keep Dancing is a web-based game from BBC Worldwide. This fun game is designed to promote the television show of the same name and its British equivalent, Strictly Come Dancing.
When you play Keep Dancing, you are challenged to perform dance routines. You want to do the dance routines as well as you can, so you can earn more money, level up, and unlock more dance routines. The beginning tutorial shows you how to play. Then, you are guided through a series of quests to help you advance in the game.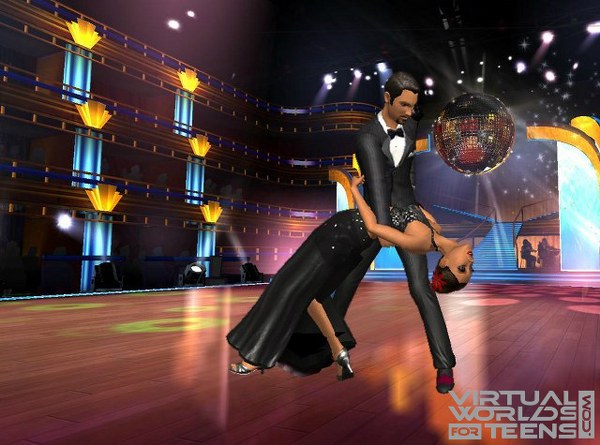 Though the game is not on Facebook, you have the option of connecting to Facebook in order to share your achievements. This is great for bragging to your friends about your advancement in the game. With Facebook achievement sharing, you can have a fun competition with friends to see who is the best player. You can exchange gifts with friends.
Your avatar can be customized. You can change the avatar's clothing in the Wardrobe section. You also can change the appearance of your dance partner. The Studio gives you the opportunity to purchase new dance routines and practice dance moves. Once you reach level 8, you can unlock Choreography which allows you to design your own dance routines. In the competition, you can show your skills and earn coins and experience.
To perform dance moves you have to press the respective characters at the appropriate times and the better your timing, the more points you get. At the end of a dance you'll get a set number of points depending on your precision and how many mistakes you made.
This game has high quality graphics. Keep Dancing has a 3D look throughout the game. The dance moves are realistically animated. The music sounds great. There is a good variety of music that is played. Practicing dance routines and showing off your skills in competition is a lot of fun.
For more screenshots, click here.
Like many games, you have the option to purchase items with real money or "coin" as it is often called. You don't have to coin in order to enjoy the game. However, you have a chance to buy premium costumes if you choose to. Also, you can coin to avoid wait times for the training to learn new dance moves or routines.
You can use real money to refill the game's energy bar as well. If you play a variety of games, you know the energy bar can be frustrating, but this game's energy bar is generous. You don't run out of energy as quickly as you do on other games.
Dancing with the Stars: Keep Dancing is a much higher quality game than those annoying, cartoony promotional games. It's something new and different for people who love music and dancing. Whether you are a fan of the show or not, you will love this game! Get ready for the stage and show off your dance skills.
Watch more videos on their YouTube channel: Dancing with the Stars: Keep Dancing on YouTube.
Dancing with the Stars: Keep Dancing is free to play.
More Games Like Dancing with the Stars: Keep Dancing
NOTE: this game has been discontinued. Find similar games here: Dancing Games.
Sooo, did you think this game looks cool? If yes, Like!