NOTE: this game has been discontinued. Find similar games here: Fashion.
Dressing up and trying on different fashions is lots of fun. What girl doesn't like flipping through fashion magazines and imagining themselves wearing all of the great clothes? Of course, not everyone can afford all of those expensive clothes in real life, but we can all dream.
Many girls like to cut out pictures from magazines and paste them onto their walls or in notebooks. Well, there is another way that you can play with different fashions without ruining magazines, and that is with the Cute Fashion Dress and Makeup game. In this game, you can dress up six different cute girls in all sorts of fashions, accessories and make up. It provides you with endless amounts of fun, and you can live out your fashion fantasies with lots of trendy and beautiful clothes.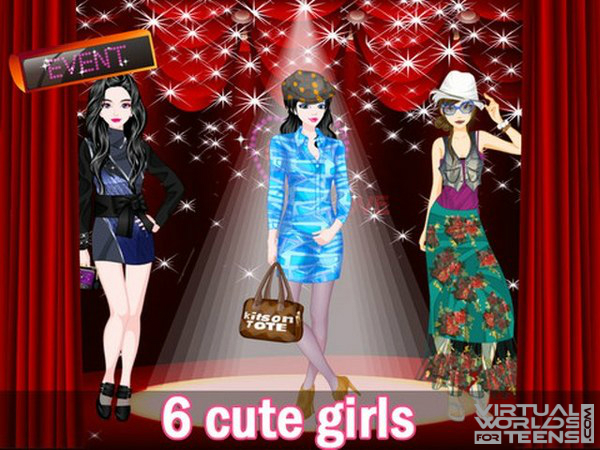 This game features cute cartoon graphics that are colorful and appealing to the eye. The girls look like real life dolls and it will be a blast dressing them up. You can give them holiday dresses for any of the year's many celebrations, or you can dress her up for a formal event. Of course, there are also casual clothes.
You have your choice between a variety of makeup colors, shoes, dresses, blouses, hats, handbags, skirts, bottoms, jewelry, and much more. With all of these options, you can create lots of different looks in endless combinations! Almost everything is customizable. Choose the model, the background, makeup, hairstyle, and of course, the clothes. The game features six different modes: bold print design, funky style, peacock fashion, pink prom dresses, summer shorts, and a week of chic outfits.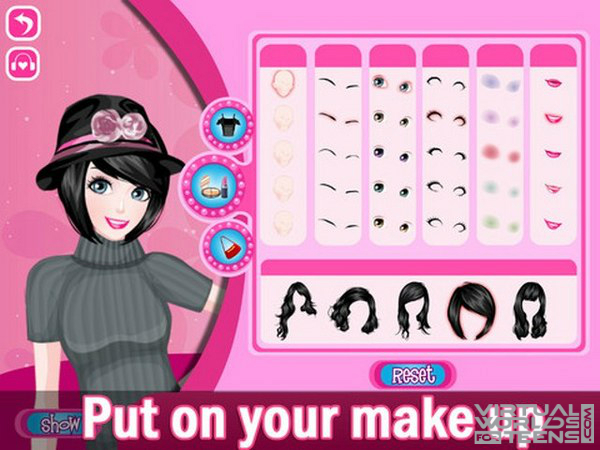 You can dress up the model in any look that comes to your imagination. If a holiday is near, then you can dress her up in a Christmas outfit, Halloween outfit, or other holiday themed outfit. Pretend like a big formal event is coming up and pick out a glamorous and chic formal look. For a day out on the town, put together a casual street wear outfit that can be worn on any day.
Don't forget to choose the perfect makeup to match. Makeup must coordinate with outfits too, and in this game you have lots of choices of makeup colors and applications. There is eye makeup, lipstick, cheek blush, and more. And make sure to add the right accessories and handbag.
For more screenshots, click here.
Best of all, when you are done with your look, you can save it or email it. By saving all of your looks, you can create your own personal fashion scrapbook. Look back at the various looks you have done in the past and improve on your design and fashion skills. Share with your friends via the email options and compare outfits and exchange fashion tips.
Try dressing up the different models and experiment with all of the different styles that are available. This game is a step above other dress up games because of its detailed graphics and wide choice of clothes. It is the perfect game for lovers of fashion and beauty.
Cute Fashion Dress and Makeup is free to play.
More Games Like Cute Fashion Dress and Makeup
NOTE: this game has been discontinued. Find similar games here: Fashion.
Sooo, did you think this game looks cool? If yes, Like!