NOTE: this game has been discontinued. Find similar games here: Simulations.
If you are looking for a fun game that is both challenging and exciting then Cubicos Tale could be just what you are looking for. It really offers players a chance to work on their time management and strategies when it comes to completing tasks.
In Cubicos Tale you take on the role of a young artist that is working under a magic master painter Cubico. You live in a magical world known as Full Color  Kolorito that is full of magical motifs and colorful stones. When a thief suddenly steals all of the magical images in Full Color Kolorito you set off on a mission to get those images back and to help restore Kolorito to its full color and vibrant self.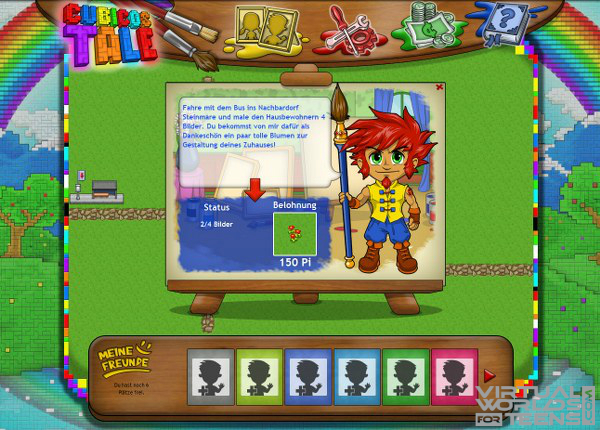 This is not like any other game that you have played before.  It looks different with its vibrant and bright colors and takes on a unique idea of leaving in a world full of magical images that have been stolen.  If you want to have your imagination run wild with you then this is just the game in which you can do that.
You get to be crazy creative as you help the residents of Full Color Kolorito by building and painting new mosaics and finishing masterful puzzles.  The best thing about Cubicos Tale is that it is also a great strategy game.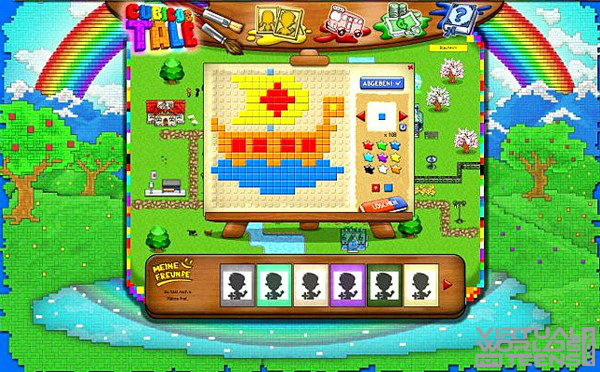 Playing Cubicos will really keep you mind engaged and you will be excited and focused the entire time you are playing because this game is both colorful but it also makes you think and plan. To play you have to buckle down and focus on the challenges and have good planning skills as well as good strategic skills. You have to complete different challenges and help recover the stolen images and recreating the motifs all under tight time limits.
This means that you have to really plan well and know how much time you have for different puzzles and paintings. There are not only puzzles and mosaics that you have to worry about but you also have to complete challenges that require you think logically as you try to figure out the more difficult puzzles.
For more screenshots, click here.
Another fun part is that you can eventually join up with other players in Cubicos Tale in a guild as you progress farther and farther in the game. By having others there to help you out you can really increase your abilities and can start solving more difficult puzzles with the help of others. They can also help you with the artistic part and the planning part of solving your challenges which will help you advance and become stronger.
Cubicos Tale is a super fun game that is not only entertaining but it is also a challenge and who does not like a challenge. The colors and artwork are amazing and eye catching which makes it even greater to play. The motifs and designs also change with different seasons and holidays so you do not have to worry about always having the same images for your challenges. The game is also free!
Watch more videos on their YouTube channel: Cubicos Tale on YouTube.
Cubicos Tale is free to play.
NOTE: this game has been discontinued. Find similar games here: Simulations.
Sooo, did you think this game looks cool? If yes, Like!