NOTE: this game has been discontinued. Find similar games here: Fashion.
If you are a fashionista or have a flair for fashion, then there is a social game that was designed just for you. Coco Girl is an online, social media game that allows you to purchase and put together fabulous looks for your in game avatar.
The set up for this game is one that is tried and true among online games, and that is earning enough in game money, known as rubies, for you to be able to increase the size and savvy of your Coco Girl's wardrobe. Fortunately, unlike many times in the real world, earning funds to feed the fashion needs of your avatar is fun to do.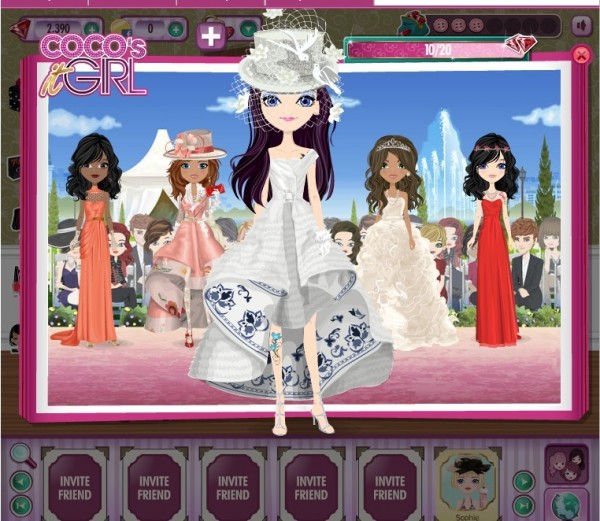 There is a ruby maker check list which helps you with your daily tasks that go toward making rubies. This game has three mini games through which you may earn rubies. There is a slots game during which you assist a customer with an outfit in a way that is similar to playing a slot machine. There is a timed hidden object game, and there is a puzzle game that allows you to create a path to unite a couple.
As with all online, social games, having friends is important. Saved looks that you create for your Coco Girl avatar can be voted on by your in game friends, and by other players. More votes result in more rubies for your stash. You are also meant to vote on the outfits of your friends and other players.
The more that your votes have in common with the majority of in game voters, the more rubies that you will earn. You should still not let this system stifle your creativity or opinions. You will learn about current fashion trends, whether or not you agree with them, but by being yourself, you may become a trendsetter.
The looks that you save are kept in your diary, and you will be able to access it through the calendar if you need to see a look that was created on a specific day. You are encouraged to create daily looks and looks that are geared toward quests. Depending on the number of votes that an outfit receives, it can receive the honor of being a part of the daily look hall of fame. Those outfits can be purchased with premium cash. You even have the possibility of seeing your outfits enter the hall of fame.
For more screenshots, click here.
So, maybe this game will help you on to your career path of becoming a stylist. Maybe it will inspire you to one day create your own fashions. Maybe you have dreams of being a fashion editor. Maybe you just like playing around in closets and going shopping. Whatever the case, you may end up having a lot of fun playing Coco Girl.
Now, do not forget that this is a game, so do not take voting results too seriously. This is meant to be a delightful way to pass the time, so just enjoy your virtual foray into the world of fashion.
Watch more videos on their YouTube channel: Coco Girl on YouTube.
Coco Girl is free to play.
NOTE: this game has been discontinued. Find similar games here: Fashion.
Sooo, did you think this game looks cool? If yes, Like!