NOTE: this game has been discontinued. Find similar games here: Social Worlds.
A Quick Review of All the New Features Added to Cloud Party
The past 4 months have been great and transformational for Cloud Party with a hoard of new features having been added. The main idea behind coming up with all these feature releases was to enhance the user experience. Cloud Party intends for these features to make the entire experience more interesting, exciting and enjoyable and provide solutions to everything that was being missed by many virtual world builders.
Here's good glance at all the new and exciting features.
Facial Customizations:  The all new facial customizations feature allows the users to play with avatar faces any way they want. So now one can make one's avatar resemble himself/herself or someone else even more.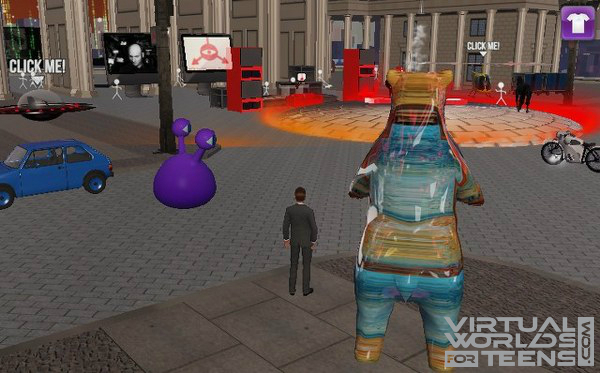 Higher Limit on Builds:   To allow the users to save more of their amazing objects, Cloud Party has increased the limits in all categories. The users can check out the new limits here. Now that they have higher limits, users no longer have to worry about discarding any of their beautiful creations.
Customizable Skies: Skies look much more realistic now with some great new gradients having been added which render a more natural and mesmerizing appeal. These new gradients do not replace the existing blue gradient but simply add to it.
Upload and Play Videos: Something that everyone had been missing for long- videos! Now users can upload their favorite videos on Cloud Party and see them playing in their beloved builds. This feature is sure to make the builds even more exciting. Users can check out how to upload and play videos here.
Events: Now all the users can plan meet ups, talks and other interesting events and share them on Cloud Party and other social media such as Twitter, Facebook and Google+. For now one can only mention the start time, end time and description and add tags. Cloud Party plans to enhance this feature so the users can create invite lists and allow others to hold events in their builds too. One can learn how to create and share events here.
Oculus Rift Support: Now the users can finally use Oculus Rift in their Cloud Party builds, enjoy greater levels of realism and experience more depth! Since the browsers don't support Oculus Rift, the users can either use the vr.js plug-in or a standalone program called Oculus Bridge that connects the browser and Oculus Rift using web sockets. Latter is recommended.
Welcome Area: An inviting new central gathering area The Landing has been added to add to the fun and allow old as well as new users to gather at one place and enjoy hanging out together.
For more screenshots, click here.
New Photo Interface: The new photo interface allows users to share the photos, taken anywhere in Cloud Party, on social media. One can even like them and comment on them. Soon users will also be able to store the photos clicked in others' builds in their personal albums as well.
Animated Attachments: Some exciting new animated attachments such as tails and wings have now been added in Cloud Party to make the user experience even more quirky, fun and imaginative. Users can experiment with the new attachments and pair them with the emotes to have even more fun!
Animated Vehicles: In addition to other animated attachments, one can now also create animated vehicles and they need not be just bikes, cars, trucks and jeeps, they can be anything, even camels! This simple tutorial is meant to teach the users how they can create animated vehicles.
Cloud Party is free to play.
NOTE: this game has been discontinued. Find similar games here: Social Worlds.
Sooo, did you think this game looks cool? If yes, Like!