In this dynamic virtual transit simulation video game you will find out if you have what it takes to be the ultimate city transit planner or not. Are you up for a challenging time of excitement as well as though provoking game play? If you are then Cities in Motion 2 is perfect for you.
Cities in Motion 2 is of course the sequel to the Cities in Motion transit game. However, part 2 is much more advanced as the first version and offers so much more than you can imagine. You will be able to build your very own transportation network as well as manage it.
With you leading the way what can stop your city from being a success? You will provide transportation networks to various cities as well as provide the proper resources for the ever growing and changing cities around you. There are plenty of new features in Cities in Motion 2. If you liked the first version, well then you will love this version of CIM2.
You will be able to play with friends as this version offers you a multiplayer option. This preferred game mode is a step up and offers you the opportunity to take your game play fun to the max. The day and night cycle and offer scenes that you will find very intriguing. It is a lot of fun to play in the day but is also very intense to play in the night cycles as well. This feature creates a new level of amazing game play atmosphere that you will find very enticing.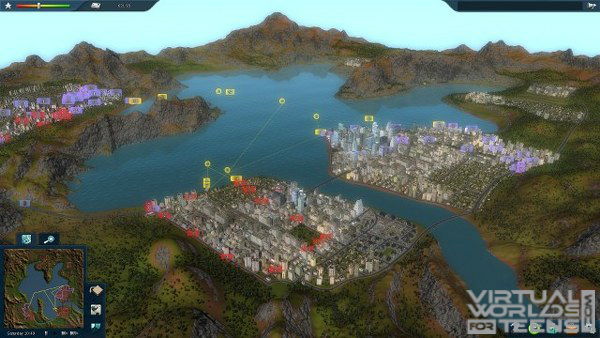 You will be in charge of building the transportation network for the cities around you. As the city grows you will need to make sure your transit access grows as well. Keep in mind that your transportation network will immediately affect the city's ability to grow, so make sure to plan your transit system accordingly.
It is also nice to see that a transport game doesn't confine itself to just roads, trains or even waterways. Instead, Cities in Motion 2 offers all of the above and more. With the ability to build tram lines and trolleys alongside bus stops, roads are by far the most used parts of the cities. Waterways, for ferry style crossings, and the countryside, for city circling metros, are however also valid and practical options to increase your transportation network. While many will stick to only a few, having the options there is pleasing.
For more screenshots, click here.
Since you are in control of what types of transportation to include in your city, you might want to add some affordable lines of transit because this will help bring in more middle class citizens. With affordable transportation opportunities you will soon see new housing and employment opening up as the city grows.
If you want your city to be run with high end citizens then you will definitely want to add some exotic transportation choices.  These more expensive transport implementations will bring the high end businesses to the city as well as higher paying citizens to pay for the rides.
You will be able to add buses, ferries, trams, subways, and so much more to your city. It is all up to you. You are the boss of this game and you will be able to build the city you have dreamed about all because of your glorious network of good quality transportation. Make sure to make the proper decisions when building your transit network because with Cities in Motion 2 your city will directly be affected.
Watch more videos on their YouTube channel: Cities in Motion 2 on YouTube.
Sooo, did you think this game looks cool? If yes, Like!