What Is Bully: Scholarship Edition
You are 15 year old Jimmy Hopkins whose parents have dumped you off at the Bullworth Academy so they can go off on a much needed cruise. Bullyworth is a boarding school in New England and Jimmy does have a reputation of being a troublemaker. It seems Mom has remarried quite a few times, thanks to Jimmy!
Bully – 2006
If you are new to Bully, the game opens with your learning all the ropes in the school. You meet various groups or cliques in the school and eventually run into Gary and Peter. Gary and Peter are your guides throughout the game opening. At some point, Gary tries to sabotage you by stabbing you in the back. Once that happens, you must win the trust of other cliques to get back at Gary. The game is broken up into six chapters.
Now Bully is back for a second semester with Bully: Scholarship Edition. This game plays on PC, Xbox 360 and Nintendo Wii. Although the original PlayStation 2 game was controversial with the Grand Theft Auto gameplay, Scholarship Edition will definitely overcome past hijinks!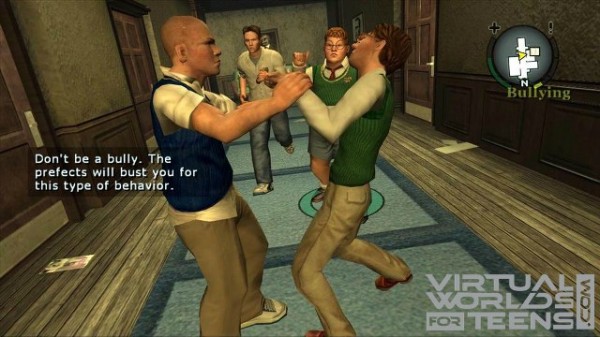 Jimmy has, again, been sent off to the ever-gloomy Bullworth Academy – school of "I don't want to be here" and surrounded by a completely  insensitive  student body.
With various characters such as Algernon the rotund bookworm and Gary who is considered downright crazy, Jimmy might just be a little over his head. This Rockstar's taste for dark comedy with traces of cocaine on a twenty dollar bill  and rather colorful characters goes along way to spicing up this game's quirkiness.
Gameplay
You will embark on story line missions and help out with errands here and there. Take a trip on a skateboard to gather up collectible cards and rubber bands. Once you have finished the day from running all over the place, take some much needed rest back at the dorm before getting into more mischief – don't get caught sneaking around after hours!
To earn a variety of perks and abilities, you might want to catch up on reading, writing, etc in the mini-game classes. If you can put together enough anagrams in English, you will be able to mingle with the fairer sex!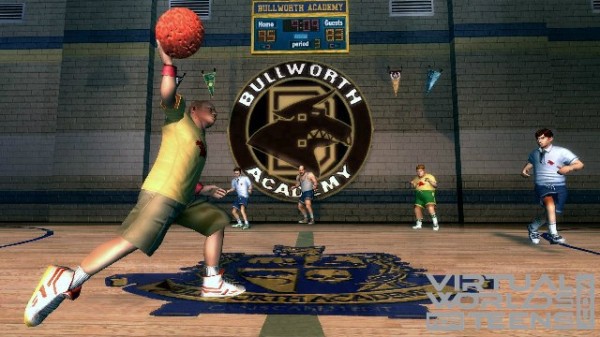 Follow the on-screen prompts of the chemistry class and get a chemistry set in order to concoct stink bombs and itching powder.
Scholarship Edition does offer more missions, newer clothing to unlock and a bunch of new classes such as geography, math, music and biology. You and your pal can battle it out in various arcade mini-games as well.
Conclusion
The gameplay in Bully really does evolve around whom you interact with on a daily basis and decides the final outcome. Get in with nerds, send flowers to girls and earn some remarkable favors. Get on the wrong side of the school sports jock and you might want to watch your back!
If you get caught breaking into a locker or other mischievous antics, it's off to the principal's office for sure!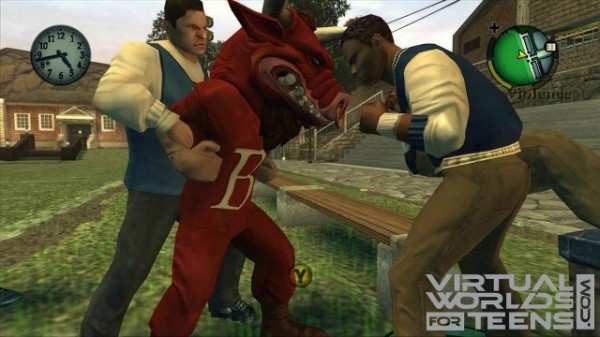 For more screenshots, click here.
There are a lot more good lessons to be learned in Bully than bad ones, especially the importance of time management, actually attending classes, and even getting an after school job. Sure, there are opportunities to engage in mischief and disrespect authority, but much like real life, it's up to you if you want to choose that path or take the high road. Bully is all about choices and making something out of a bad situation. It's also a really great game, with a lot of interesting new content and a minor cosmetic facelift. Bully: Scholarship Edition is full of humor and believable characters and I highly recommend it, even if you've played it on your console, and especially if you haven't.
If you like character role games and have a touch of dark humor, you will have a great time with Bully: Scholarship Edition. So grab this game and have a whole lot of fun!
Watch more videos on their YouTube channel: Bully: Scholarship Edition on YouTube.
Sooo, did you think this game looks cool? If yes, Like!