NOTE: this game has been discontinued. Find similar games here: Social Worlds.
Few things compare to the beautiful and exciting world of BoomBang. With stunning islands and a large, entertaining community, there is something for everyone to enjoy here. You can go from decorating your own island to making friends to making enemies, and all with ease.
Thanks to the moderation of the game, it is suitable for anyone to play, too. Socialization and entertainment combine to create a widely appealing game. All ages are sure to find something here to love, whether you would rather build up your island or meet other players. You may even want to stay on the island because of how exciting it is.
What will captivate the minds right away is the beautiful setting in BoomBang. You have stunning landscapes and interesting creatures, and all with a tropical and Asian appearance. You can build up your own island, too. Get it going and make it look beautiful, using the items that you love the most. There is a lot for you to do and plenty to explore, so make sure that you go as far into this game as you can. Find your favorite items for decoration and see what others have done with their own islands, or just see what this amazing world has to offer.
Of course, BoomBang is mostly a social game. While you can decorate and have fun on your own, the real entertainment comes in when you start meeting the other players. With so many places to explore and so many people to meet, you are sure to find a friend, or even an enemy.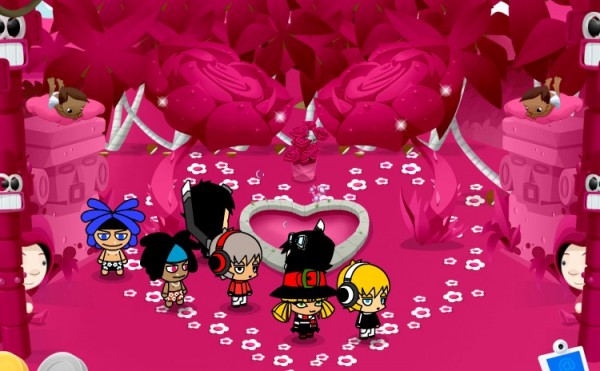 You can show your love or your hate easily, and there is always someone new to befriend or loathe. Show your emotions and show your personality for all of the world to see, all while having fun with all that you can find in this magnificent game.
There are plenty of interaction possibilities in BoomBang. Socialization and communication, whether you are expressing your love or throwing a coconut, are entertaining and full of possibilities. Regardless of what you want to say to someone or the type of emotion that you want to convey, there is an option available. Being able to communicate seamlessly is what makes this game truly astounding. Few others allow you to do so much with so few words, giving you the opportunity to bond with players or really show them your angry side.
For more screenshots, click here.
You do not have to worry about the fun being ruined by a few bad players, either. While the game is open to everyone, there are moderators actively making sure that nothing gets in the way of a good, clean gaming experience. You can talk with friends and explore while trusting that there are responsible, capable moderators keeping an eye on everything to keep the behavior in line and to avoid situations that might ruin the experience.
This in no way works against BoomBang, either. You are not going to notice the moderators that much, except when players are acting up, ensuring that the experience remains seamless.
Watch more videos on their YouTube channel: BoomBang on YouTube.
BoomBang  is free to play.
NOTE: this game has been discontinued. Find similar games here: Social Worlds.
Sooo, did you think this game looks cool? If yes, Like!