This online browser game is a must have. You will enjoy every second of free online play as you go through your adventure with the Bongies, the tribal people of Bonga as the island spirit. You will enjoy helping the Bongies along the way making sure their lives are perfect.
As the story of the Bonies unfold in Bonga Online you will enjoy learning all about their tribes. You see there were two tribes who were rivals of each other; however, love steps into play and the Bongies flee to a new home on an exotic island. You will need to help the Bongies make a new home on this beautiful island of love paradise. You will be able to help the Bongies design their homes and so much more just as they desire.
Since you are the island spirit it is up to you to help them. These cute people do not just want to live in a paradise atmosphere where they just relax on the beaches all day long and drink tropical drinks while sitting and watching the soothing waves of the ocean. They want more out of life. They want an active life but they need your guiding hand and support to attain this desire.
You will love the excitement that comes with helping this tribe from Bonga design and construct their very own island city to call home. Help them by gathering resources to create beautiful buildings, plant palm trees for food, make pottery or even take the Bongies fishing for a great dinner meal.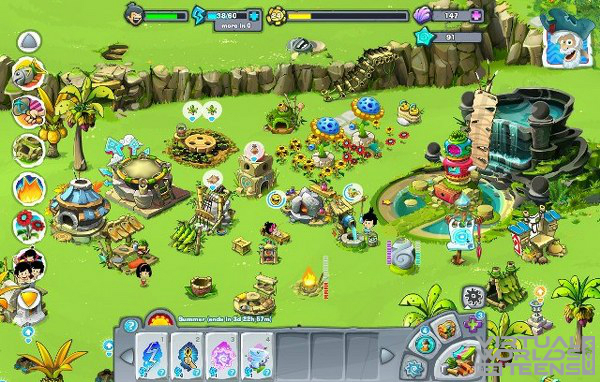 In this online game you will notice that currency is a little different but it is a lot cooler because shells stand as the island currency. Yes, shells!  With your shell money you can buy potions or artifacts, energy drinks to energize your Bongies, and so much more.
Keep in mind that you are responsible for feeding your Bongies to keep their energy and mojo up. You will need their help to create the perfect island home for them. Since you are the island spirit you will want to make sure your people are taken care of properly so make sure to use your Bongies wisely and take care of them in every way possible.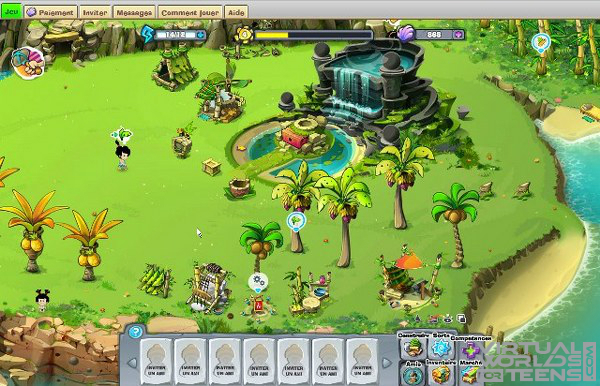 For more screenshots, click here.
A really cool feature in this game is you can invite your friends to play along with you. You can have your friends become a Godparent to your Bongies and allow them help you take care of your people. To do this you will need to build the Egg of Life. Building the Egg of Life will allow you to summon the ancestors and allow your friends to then become a godparent of your precious Bonga tribe.
The further in this game you go the more you will be entertained. Taking care of the island and these people is a lot of fun. This game offers so much more than you can imagine and is a game that you will not want to skip past. You will want to be a part of Bonga Online!
Watch more videos on their YouTube channel: Bonga Online on YouTube.
Bonga Online is free to play.
Sooo, did you think this game looks cool? If yes, Like!