In Blue Rose, life is about to change for Lena, the main character. You are thrust into a new experience, a new location, and you have several routes to take. With multiple endings and stories, and more to unlock, you have a long journey ahead of you. However you choose to play, whatever routes you choose to take, it is an incredible and memorable experience. It gives you the visual novel story, art, and music that you love, and it does everything exceptionally well. No matter how many times you play, you will find new reasons to gush over this game.
Blue Rose is your average visual novel in a lot of ways. Beautiful art and music, multiple story paths and endings, romance and mystery, and new things for you to discover every time you play. You have a never ending story, or just about never ending. You are going to experience new things, see new sights, and unravel the story ahead of you. For anyone who loves visual novels, and wants something that will meet their expectations for the genre, this is the one to pick up. It will keep you entertained every time you play, no matter how many times you play.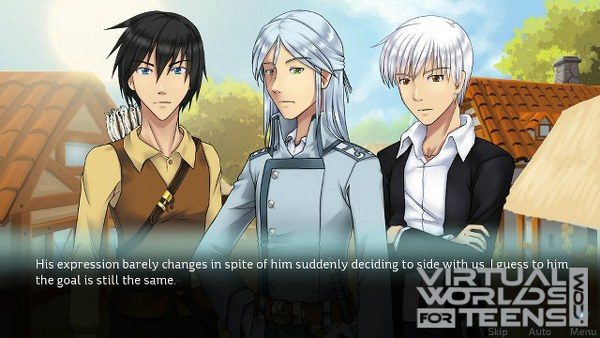 There are 5 routes to take, with 10 endings available. In this old country mountain setting, perfect with the manga art style, you will want to explore them all. It works wonderfully for anyone who enjoys anime or manga, and it makes the story its own. It is not generic or boring, though it does not push boundaries or do anything new. It remains refreshing and exciting, giving you the type of virtual novel you have come to live.
All characters have their own looks and personalities, making it fun to meet and speak with all of them. You will want to go down every route, take every possible option, because the characters are so enjoyable. It is easy to do this, too. No matter how often you play, you can come back and fall back in love with these characters.
It is more than the main stories here, too. Blue Rose has mini stories for you to unlock and explore. The wonderful thing about replaying as often as possible is that you can see all potential stories here. See every mini story, unlocking more for your favorite characters and learning more about them as a whole. This is a great way to gain even more from this already packed game.
All of the art and music are phenomenal, too. While they are not the best, they do well with the story and help to bring you in more. You can see the characters and settings, and you can feel as if you are there.
For more screenshots, click here.
Blue Rose is the visual novel to play right now. Whether you are a fan of the genre or you are looking for a place to start, you have everything you could want in this game and far more than you might expect.
All things considered, Blue Rose offers an interesting story full of dragons, templars, and romance. The player has also enough room to do something; you can make important decisions in conversations, which is usual for these kind of games, but you can also decide where the protagonist should go over the day. However, the characters won't repeat standard phrases but you'll always get to see a nice, new scene. I think Blue Rose is a surprise hit and I hope we'll get to see more of these superb visual novels by White Cat in the future!
Watch more videos on their YouTube channel: Blue Rose on YouTube.
Sooo, did you think this game looks cool? If yes, Like!