NOTE: this game has been discontinued. Find similar games here: Pet Worlds.
Animals and conversations and games and so, so much more are waiting for you in Bitty Bay. This game is full of choices that are certain to keep you entertained, whether you are meeting new friends or playing games. With the choices available, you can find something that fits you in no time at all.
Enjoy the animals that are everywhere and the people that keep this place alive. You can go from customizing your own area to making new friends to playing games, and all without having think twice about it. This game is incredibly well built and fun to play for everyone.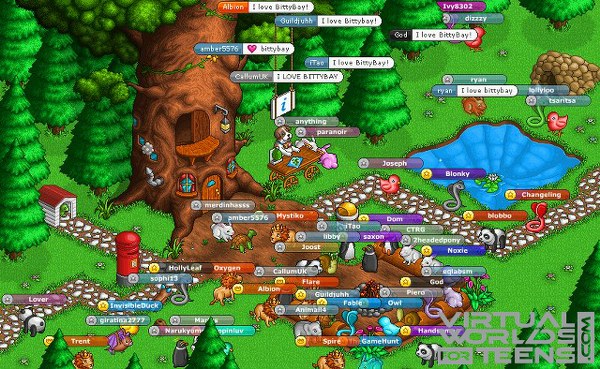 You are not going to play Bitty Bay as a human avatar, not at all. Instead, you have an animal avatar. There are four simple options to start out with, but you can use the in game currency to buy more later on, such as a lion or a bat. They are interesting colors and designs that have a bit of imagination mixed in with their adorable appearances.
If you are someone who loves playing games as cute little animals, this is definitely something that is going to interest you. Everyone is an animal, whether they are an NPC or a random player, and they all look cute.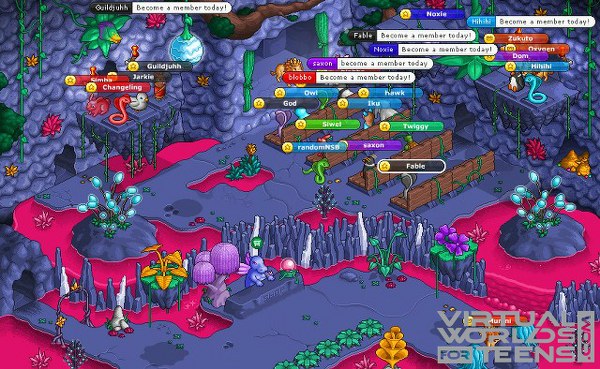 What you are going to notice right away about Bitty Bay is that it has various locations for you to visit. These public rooms are where people gather to have fun, to talk, to make friends, and to enjoy the game. They all look great and improve the game quite a bit, but the choices do not stop there. You can also create your own area, making it look however you want it to look. Using the items available to purchase, you can personalize an area for yourself and your friends, making the most out of your imagination and the money that you have saved up.
Of course, one of the biggest parts of Bitty Bay is the socialization. Here, you are not just running around and customizing. In fact, that takes a backseat to the socialization. You are going to be able to meet new people, make friends, and explore this world thanks to the focus on staying social and having fun with others.
For more screenshots, click here.
Since this is a safe gaming environment, you can do all of this without having to worry about what the other players may say or do. It is appropriate and fun for everyone, so getting into this should not leave you worried at all.
Another fun part of Bitty Bay is the games. If you are looking for a break from the conversations and the customization, you can move on over to the games to see what is possible. Play a bit and start seeing what you can do here. All games are going to be exciting for you and are going to keep you laughing, even when they feel like a huge challenge. There is always something to love about the games available here.
Watch more videos on their YouTube channel: Bitty Bay on YouTube.
Bitty Bay is free to play.
NOTE: this game has been discontinued. Find similar games here: Pet Worlds.
Sooo, did you think this game looks cool? If yes, Like!