Most games feature dazzling swordplay, magic, and stories that have our mind buzzing, but BeBees is hoping to get you buzzing in a new way. This game features bees, not men in leather and talking animals battling it out. As a bee, you are going to need to build a colony, collect honey, and care for your bee citizens.
You are not doing this alone, however. You have a large community of players ready to collect and battle alongside you, though they are not always on your side. You have players that are out to destroy other colonies, which means that you have to watch out. Stay aware, build a strong colony, and continue to become the best bee out there.
As stated, BeBees is putting you in the position of a bee. You are going to have to collect nectar and honey in order to construct your beehive. This is going to take some work and time, but it is certainly worth the effort once you see your hive all up and ready to be used. It will look great and it will work exactly the way that it should, allowing you to start getting into the game. You can focus on collecting, improving your bees, and even getting together with other players to either do your best or take each other down.
Remember to collect a lot of honey. This is an important item in BeBees, obviously, so you are going to want to make sure that you have a lot of it. You need it to build, feed your citizens, and trade, so you cannot be lacking at any moment.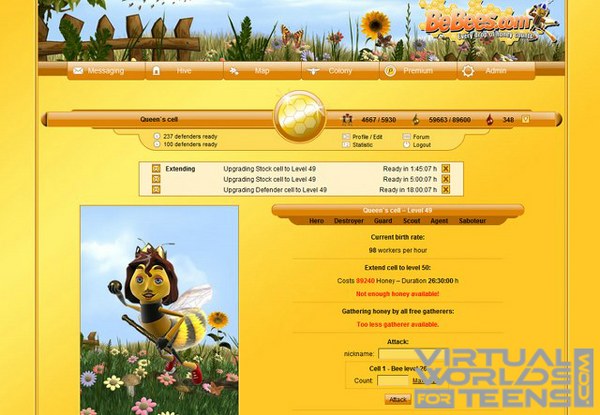 When you want certain resources, as an example, you can use this honey to trade for said resources with other players. If you have more than enough, you can see your bee citizens grow and become their best, and you can see your hive continue to strengthen.
Collect resources and train your bees if you want to have a strong beehive. Your bees need to be fighting at their best and you need to make sure that you have more than enough resources in order to make it to the top in BeBees. With so many other players that are going to threaten your hive, you cannot let yourself become weak or exposed.
For more screenshots, click here.
Work on building your hive, work on strengthening your bees, and work on becoming the top hive. If you combined yourself with another hive, then work on becoming strong as one.
BeBees does have something for you to work towards. There is a finale of sorts, and you are going to want to be strong enough for it. You are going to go up against your enemy and you are going to fight, seeing which of your bees are the strongest. If you have worked on improving your hive immensely, then this should be no problem. Do not take this lightly, however, because others are putting in just as much time and effort. If you go at this with your best, you can expect great things.
Interaction with other bee kings is inevitable, of course. After all, everyone wants to have the most powerful bee colony. If you win the big final fight with your heroic Bee, you can even win prizes. It takes a blend of aggression and strategy to be victorious in BeBees.
BeBees is free to play.
Sooo, did you think this game looks cool? If yes, Like!