Who would not want to be richer? Since Be Rich became the go to real estate game, this sequel has all the pomp and glamour you would expect and more! You will discover so much more in Be Richer than you ever have in the real estate gaming industry.
One of the great features this game offers is the ability to change your environment as you please. You can bulldoze streets if you want, just keep in mind every building will need to be a part of the street system so if you want to build an infrastructure you will first need to add a street.
If you find a building site you would like to work with but it does not work for you in the as is condition, you can bulldoze it all down and build what you wish in its place while maintaining the location. You will be able to create in a much more realistic approach with Be Richer than you have even been able to before in builder games.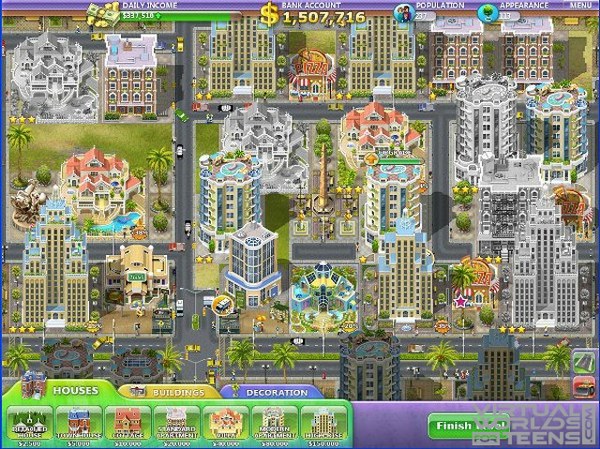 Building, upgrading, and all other tasks are as simple as clicking your mouse. Use the easy-to-access menu at the bottom of the screen to choose residential or commercial buildings, or add decorative features to boost appeal and rent. Start with a basic headquarters that can accommodate up to five construction teams and upgrade as necessary within each scenario. Don't like the road layout? Feel free to demolish and rebuild to suit your plans, but don't forget that road access is critical to construction. If your building site is not accessible by road then nothing will be constructed. Go wild and build the neighborhood of your dreams! But don't forget the goals.
There are two modes that you will enjoy playing throughout this virtual real estate builder game. One mode is the campaign mode. This mode will enable you the ability to fulfill various goals. Watch out though because you will be timed so make sure to use your super time management skills to race against the clock.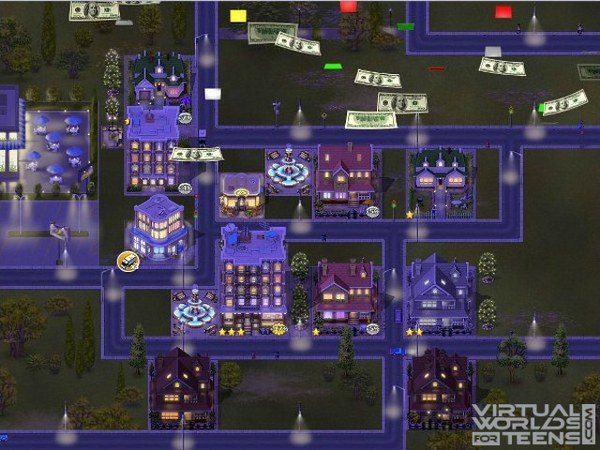 The other mode is called the free mode. The free mode includes maps and goals in a larger spectrum; however, you will not have to race against the clock in this mode. You will need to carry out goals such as reaching a certain rental income, gaining possession of a specific building, collecting a certain amount of money, complete a prestigious construction project such as a zoo or shopping mall.
The main point of this game is your rental income. You will earn rental income from your buildings as well as your houses that are in your possession. When you upgrade your buildings, houses, and so forth you can increase your rental income. You could add things such as hotels, pizzerias, spas, and more to the neighborhoods to help increase your rental income as well. Be careful with what you do as you can get some disgruntled and unhappy tenants along the way.
For more screenshots, click here.
If your tenant is discontent they will not pay your rent so it is up to you to help them find happiness with your changes. If you find that a tenant is not paying their rent you can send workers to their house to negotiate a lower rent. You will want to pay attention to your plan of arrangement when building as well as how you use the free space that is available as this will either make your tenants happy or well unhappy.
This game will have you entertained for hours and is extremely addictive. As you advance in the game play you will be amazed at your real estate management talents and quite possibly be the star of your town!
Watch more videos on their YouTube channel: Be Richer on YouTube.
Sooo, did you think this game looks cool? If yes, Like!